Acibadem Healthcare Group Istanbul
Department of Adult and Pediatric Orthopedics, Traumatology (

302409

)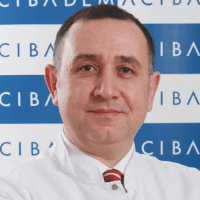 Prof. Dr. med.
Ufuk Nalbantoğlu
Specialized in: adult and pediatric orthopedics, traumatology
About the department
The Department of Adult and Pediatric Orthopedics, Traumatology at the Acibadem Healthcare Group provides the top-class diagnostics and treatment of the full range of musculoskeletal diseases. The priority fields of specialization include the treatment of common orthopedic problems, common and sports injuries, orthopedic rehabilitation, arthroscopy of the knee, hip, shoulder and elbow joints, microsurgery of the wrist and radiocarpal joint, surgery of the foot and ankle joint, replacement surgery, treatment of musculoskeletal cancers and spinal surgery. The department's medical team uses reliable classic and innovative treatment methods, which allow them to achieve optimal results and to restore the patient's mobility as much as possible. The Chief Physician of the department is Prof. Dr. med. Ufuk Nalbantoğlu.
The department also offers effective conservative and surgical treatment of sports injuries. The leading experts in sports medicine are involved in the treatment process, including nutritionists, physiologists, psychologists and sports trainers. The department develops individual exercise programs in order to achieve the optimal result and the fastest return of athletes to their usual physical activities. The department has the Section of Physiotherapy with a swimming pool for physical exercises, hot tubs, devices for extracorporeal shockwave therapy, etc. In addition, the department includes the Section of Biomechanics, which is equipped with high-speed cameras and motion analysis systems, which allow the doctors to objectively assess gait, athletic abilities and skills. These sections admit not only the athletes, but also the patients with orthopedic and neurological disorders.
Another key focus of ​​the department's work is the treatment of all types of congenital malformations in children, such as hip dysplasia, hemimelia, Perthes disease, osteomyelitis and difference in limb length. The department's specialists are also involved in the diagnostics and treatment of neuromuscular pathologies, such as cerebral palsy, myelodysplasia, obstetric paralysis, Charcot–Marie–Tooth disease, etc.
The department's range of medical services includes:
Spinal surgery

Spinal deformities (scoliosis, kyphosis)
Spondylolisthesis (vertebral displacement)
Degenerative spinal diseases
Spinal injuries
Spinal infections (tuberculosis, nonspecific infections)
Spinal tumors (primary and secondary ones)

Arthroscopic and joint replacement surgery (interventions on the knee, hip, elbow, shoulder, ankle and wrist)

Primary interventions (partial or total joint replacement)
Revision interventions (for example, prosthetic joint infection)

Hand surgery

Microsurgical interventions
Replantation surgery
Free tissue transplant
Reconstruction in injuries of the upper limbs and small joint arthroscopy
Reconstruction of congenital hand deformities

Foot and ankle surgery
Lower limb lengthening surgery
Treatment of all types of fractures, dislocations and injuries, including polytrauma
Treatment of benign and malignant musculoskeletal neoplasms
Treatment of musculoskeletal diseases in children

Congenital deformities (thigh dislocation, hemimelia, etc.)
Orthopedic diseases (Perthes disease, osteomyelitis, lameness, different length of the lower limbs)
All types of injuries, including sports injuries, fractures, tendon and ligament ruptures
Neuromuscular diseases (cerebral palsy, myelodysplastic syndrome, obstetric paralysis, Charcot–Marie–Tooth disease)

Other diseases and treatment methods
Curriculum vitae
Education
2011 Medical specialization in Hand Surgery.
1990 Faculty of Medicine, Istanbul University.
Professional Career
Since 1999 Work in the Department of Adult and Pediatric Orthopedics, Traumatology at the Acibadem Healthcare Group.
1999 Harvard University, Beth Israel Deaconess Medical Center and Pediatric Hospital.
1998 Harvard University, Massachusetts General Hospital.
1997 Cornell University, Hospital for Special Surgery.
1997 New York University, Hospital For Joint Diseases.
1995 Cleveland Clinic, Cleveland, Ohio, USA.
1995 - 1996 Columbia University Irving Medical Center and New York-Presbyterian Hospital.
1994 - 1995 University of Utah, Salt Lake City, Utah, USA.
Memberships in Professional Societies
Turkish Society of Orthopaedics and Traumatology.
Turkish Society of Plastic-Reconstructive and Aesthetic Surgeons.
Turkish Society for Surgery of the Hand and Upper Extremity.
American Society for Surgery of the Hand.
Turkish Orthopaedics and Traumatology Education Council.
Photo of the doctor: (c) Acibadem Healthcare Group Istanbul
Department of Adult and Pediatric Orthopedics, Traumatology.
Acibadem Healthcare Group Istanbul:

Request more information now.
We will be happy to answer all your questions.
---
Certificates