Acibadem Healthcare Group Istanbul
Department of Aesthetic, Plastic and Reconstructive Surgery (

302413

)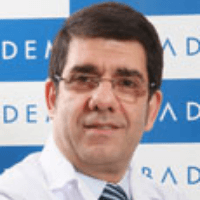 Prof. Dr. med.
Atilla Arinci
Specialized in: aesthetic, plastic and reconstructive surgery
About the department
The Department of Aesthetic, Plastic and Reconstructive Surgery at the Acibadem Healthcare Group offers the full range of high-quality services in its areas of specialization. The patients can have individual consultations, during which the patient with highly qualified specialists discuss all the wishes and possible treatment options in detail. The department also has 24-hour emergency service for the treatment of burns, fractures, tendon injuries, etc. The department has the cutting-edge medical equipment, and is also focused on the best results, combined with maximum comfort and safety of patients. The Chief Physician of the department is Prof. Dr. med. Atilla Arinci.
The department's surgical service range includes:
Aesthetic interventions

Aesthetic interventions in the face

Classic facelift
Thread lift
Eyebrow lift
Eyelid surgery
Nose reshaping
Chin augmentation and reduction
Correction of everted ears and developmental auricular defects
Neck lifting
Adipose tissue injections from the body to the face
Skin resurfacing using CO2 laser or mechanical dermabrasion
Correction of acne scars and other scars

Aesthetic interventions in the body

Breast augmentation, reduction and tightening
Tummy tuck (abdominoplasty)
Breast reduction in men with gynecomastia
Tightening hands and hips
Removal of body fat and excess skin from the abdomen, hips, buttocks, back, arms
Liposuction
Lipofilling
Tattoo removal

Reconstructive interventions

Breast reconstruction after mastectomy
Surgical treatment of cleft lip and palate
Reconstructive interventions in the head and neck after neoplasm resection
Reconstructive interventions for fractures, traumatic injuries of soft tissues, tendons and nerve endings
Reconstructive interventions for chronic wounds, bedsores and burns
Scar revision
Surgical removal of benign and malignant skin lesions followed by flap plastic surgery and skin grafting
Surgical correction of birth defects and deformities
Reconstructive surgery on the external reproductive organs

Other surgical options
Photo of the doctor: (c) Acibadem Healthcare Group Istanbul
Department of Aesthetic, Plastic and Reconstructive Surgery.
Acibadem Healthcare Group Istanbul:

Request more information now.
We will be happy to answer all your questions.
---
Certificates