Acibadem Healthcare Group Istanbul
Department of Mammology (

534809

)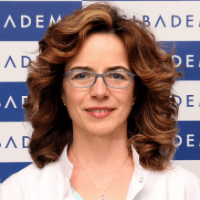 Prof. Dr. med.
Gül Başaran
Specialized in: mammology
About the Department of Mammology at Acibadem Healthcare Group Istanbul
The Department of Mammology at the Acibadem Healthcare Group offers the modern diagnostics and treatment of all breast diseases in women. The department specializes in the complex treatment of breast cancer and has the very latest surgical and conservative methods. The department's tasks also include the treatment of benign pathologies, particularly, cysts, fibroadenomas, intraductal papillomas and mastitis. In addition, the department offers a wide range of additional options, including nutrition counseling and genetic risk factors, psychological support programs, physiotherapy and others. The Chief Physician of the department is Prof. Dr. med. Gül Başaran.
The department's specialists carry out the accurate diagnostics in order to establish an accurate diagnosis and prescribe the optimal treatment regimen. The department has all the very latest diagnostic options.
The diagnostic service range of the department includes the following options:
Diagnostic imaging techniques

Mammography
Digital mammography
3D mammography with tomosynthesis
Ultrasound scanning
4D ultrasonography
MRI

Biopsy

Puncture biopsy

Fine-needle aspiration biopsy
Tru-cut biopsy
Vacuum assisted biopsy
MRI-guided biopsy

Other diagnostic methods
The diagnostics and treatment of breast diseases, especially cancer, require the participation of many medical specialties. The department's team consists of oncologists, surgeons, radiation oncologists, specialists in radiation diagnostics, specialists in pathologies and medical genetics, etc. Thanks to interdisciplinary cooperation, the department achieves the very high rates of treatment effectiveness and general survival of the patients.
The department's therapeutic service range includes all methods of modern evidence-based medicine. If the cancer is detected at the initial stage, the surgical treatment is optimal. The department successfully performs both radical mastectomy, as well as organ-preserving operations, which involve only tumor removal, while the healthy tissues are preserved as much as possible. The specialists have long experience in breast cancer surgery, and they also underwent internships and training at the leading European and American medical centers. Thanks to the use of the most effective surgical methods in combination with additional therapeutic options, the doctors achieve excellent results in the vast majority of cases.
The therapeutic service range of the department includes the following options:
Surgical techniques

Organ-preserving operations
Radical surgical procedures (mastectomy)
Modified radical mastectomy
Surgical interventions for the assessment of the condition of the sentinel lymph nodes
Breast reconstruction using implants, patient's own tissues, etc.
Microsurgical reconstruction techniques

Non-surgical methods

Intraoperative radiation therapy
Radiation therapy
Chemotherapy
Hormone therapy
Targeted biological therapy

Other modern treatment options for cancer and other breast diseases
Curriculum vitae of Prof. Dr. med. Gül Başaran
Education and Professional Career
2011 Professor, Marmara University Hospital.
2005 Associate Professor in Medical Oncology, Marmara University Hospital.
2003 DES Certificate on Breast Cancer, Brussels.
2001 - 2003 Research Internship, "Investigation Drug Branch for Breast Cancer" (IDBBC), European Organization for the Research and Treatment of Cancer (EORTC), Brussels, Belgium.
1999 - 2003 Internship in Oncology, Marmara University Hospital, Department of Oncology, Istanbul.
1999 Certified Medical Specialist, Internal Medicine.
1998 Clinical Residency, Marmara University Hospital, Istanbul.
1996 Visiting Fellow, Saint Elizabeth's Medical Center, Department of Haematology and Oncology, Tufts University Boston, USA.
1995 - 1999 Residency in Internal Medicine, Marmara University Hospital, Istanbul.
1994 - 1995 Neurology Residency, Haseki Hospital, Istanbul.
1991 Visiting Fellow, Department of Diabetes, Endocrinology and Lipid Metabolism, Dudley Road Hospital, Birmingham, UK.
1987 - 1993 Study of Medicine, Istanbul University, Cerrahpasa Medical School (teaching language: English).
Memberships in Professional Societies
American Society of Clinical Oncology (ASCO).
European Society for Medical Oncology (ESMO).
Treasurer, Medical Oncology Society.
Flims Alumni Club (FAC).
Photo of the doctor: (c) Acibadem Healthcare Group Istanbul
Department of Mammology.
Acibadem Healthcare Group Istanbul:

Request more information now.
We will be happy to answer all your questions.
---
Certificates