Department of Dermatology, Aesthetic Medicine and Anti-Age Therapy (

603646

)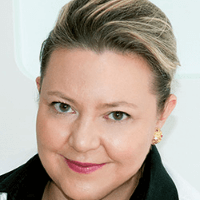 Dr. med.
Véronique Emmenegger
Specialized in: dermatology, aesthetic medicine, anti-age therapy
About the Department of Dermatology, Aesthetic Medicine and Anti-Age Therapy at Clinic Lémanic Lausanne
The Department of Dermatology, Aesthetic Medicine and Anti-Age Therapy at the Clinic Lémanic Lausanne offers the full range of services in its areas of specialization. The patients receive medical care from a highly competent team of experienced specialists who have at their disposal the very latest treatment methods and advanced laser devices. A treatment plan is developed for each patient individually, taking into account his needs and wishes. The department has a pleasant and friendly atmosphere, which contributes to the excellent mood of patients. All therapeutic and anti-aging procedures are carried out in compliance with the highest medical standards. The Chief Physician of the department is Dr. med. Véronique Emmenegger.
The department treats diseases of the skin and its appendages, as well as performs cosmetic procedures to improve the health and beauty of the skin. It is noteworthy that some of the procedures are applied only in certain highly specialized clinics. To eliminate wrinkles, the department uses several methods that can be applied in combination or separately. The use of lasers to treat vitiligo and psoriasis makes it possible to influence strictly defined areas of the skin. In addition, the department has lasers designed to remove age spots, correct scars and reduce stretch marks. The problems associated with blood vessels can also be solved with the help of appropriate lasers, which allow getting rid of rosacea on the face, angiomas or small veins in the legs.
The specialists of the department have many years of clinical experience, and therefore they work with all types of skin, paying special attention to the safety and effectiveness of the procedures. The therapeutic offer covers the procedures for healing and rejuvenating the skin of not only the face, but the whole body. For example, a complex of measures is taken here to tighten the skin of the body, get rid of cellulite and reduce body volumes.
The field of competence also includes correction of hair loss. A comprehensive examination serves to identify the cause of excessive hair loss or its thinning. The patient undergoes a course of procedures to stimulate metabolic processes in the scalp, restore hair growth. Based on the test results, medications and supporting nutritional supplements are also prescribed to solve the problem "from the inside".
The service range of the department includes:
Acne treatment with blue light phototherapy
Aqualift for facial wrinkle treatment
Carboxytherapy for facial skin rejuvenation, treatment of cellulite and stretch marks
Cellulite treatment using the Endermologie® technique
Cryolipolysis for the treatment of cellulite and elimination of excess subcutaneous fat without surgery
Deep chemical peeling to restore skin beauty and treat wrinkles
Medium chemical peeling to restore skin beauty and treat wrinkles
Face lifting using LPG Lift 6
Fractional laser treatment (scars, melasma, wrinkles, stretch marks)
Golden Rejuvenation procedure for skin rejuvenation, scar revision
HAUTE COUTURE Face and Body
Body rejuvenation and body contouring with Huber Motion Lab
Hyperhidrosis (excessive sweating) treatment
Injections of reabsorbable drugs for acne and wrinkle treatment, lip augmentation
Non-surgical technique for treating alopecia using the Bio Hair Implant (BHI)
Laser treatment of alopecia
Laser remodeling of the face, neck and chest to rejuvenate these parts of the body
Laser correction of age spots
Laser wart removal
Laser treatment of angiomas
Laser treatment for psoriasis
Laser treatment of thread veins in the legs
Laser treatment of vitiligo
Laser treatment of rosacea and telangiectasia
LED therapy (photobiomodulation) for the correction of acne, scars, stretch marks, treatment of wrinkles, rosacea
Facial skin rejuvenation using lipofilling
Liposuction for body reshaping
Microdermabrasion for acne treatment
MEDILIPO® procedure for body rejuvenation and cellulite treatment
Mesotherapy for skin rejuvenation and tightening, treatment of wrinkles and cellulite
Micro-Autologous Hair Implants (MICA™) for the treatment of alopecia, restoring the beauty of eyebrows
N.O.logy procedure for rejuvenation, treatment of cellulite and vascular problems
Facial rejuvenation using Perfect Lift 21
Permanent laser hair removal
Permanent makeup
Laser tattoo removal
Thermage anti-aging procedure
Treatment of facial wrinkles with Vistabel injections
Ultherapy® lifting procedure
Vampire Facial® procedure
Other procedures
Curriculum vitae of Dr. med. Véronique Emmenegger
Dr. med. Véronique Emmenegger is a renowned specialist in Dermatology and Venereology, as well as in Allergology and Clinical Immunology.
After studying medicine in Fribourg and then in Lausanne, she worked in Switzerland and the United States, most notably at the University Hospitals of Lausanne, Bern and Geneva, and Massachusetts General Hospital in Boston.
After completing postgraduate training in laser techniques in the United States, she opened a practice in Lausanne that already focused on surgical and aesthetic dermatology, as well as laser skin surgery.
In 1998, she formed Clinic Lémanic Lausanne with Darrell Jacobs. Since then, the medical practice has been joined by a beauty centre and the clinic has experienced considerable growth. Thanks to her expertise and professionalism, its reputation extends far beyond the Swiss borders. Dr. med. Véronique Emmenegger and her colleagues are committed to providing highly specialised services to ever-increasing numbers of exacting international patients.
Photo of the doctor: (c) Clinic Lémanic
Department of Dermatology, Aesthetic Medicine and Anti-Age Therapy.
Clinic Lémanic Lausanne:

Request more information now.
We will be happy to answer all your questions.
---