Dentisland Oral and Dental Center Istanbul
Department of Adult and Pediatric Dentistry (

613786

)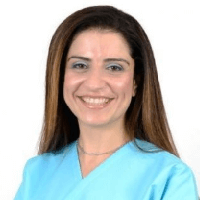 Dr. med. Dr. dent.
Deniz Işık
Specialized in: adult and pediatric dentistry
About the Department of Adult and Pediatric Dentistry at Dentisland Oral and Dental Center Istanbul
The Department of Adult and Pediatric Dentistry at the Dentisland Oral and Dental Center Istanbul offers the full range of services in its area of ​​specialization. It represents all fields of modern dentistry, including dental implantology, oral and maxillofacial surgery, endodontics, cosmetic dentistry, orthodontics, periodontics, pediatric dentistry. Dental services are provided in specially equipped rooms with all the necessary technical resources. If necessary, the doctors carry out computer modeling of the predicted treatment result so that the patient can assess it even before the start of therapeutic measures. The treatment is provided with the use of high-quality pain relievers, which contributes to maximum patient comfort. The Chief Physician of the department is Dr. med. Dr. dent. Deniz Işık.
Aesthetic dentistry is one of the most demanded directions of the clinic's work. The patients visit the department's dentists with a desire to have a dazzlingly beautiful smile, while they, in turn, offer progressive techniques to realize this desire. A revolutionary method for restoring the aesthetic appearance of teeth is the placement of porcelain laminate veneers, which are thin porcelain plates designed to be placed on the outside of the teeth. The thickness of veneers is from 0.3 to 0.7 mm, so they do not cause any discomfort and look natural. Veneers are used to correct the shape and color of teeth. In most cases, veneers require 2-3 visits to the dentist (1 week). Veneers are made from quality materials, so they will last for many years with professional placement. The advantage is that they do not change their color.
Dental implantology is also one of the department's priorities. This branch of ​​dentistry provides an opportunity to replace lost or damaged teeth that cannot be restored with fillings, crowns or bridges. An implant is a dental prosthesis that consists of a root and a crown. The root is implanted into the bone in the place of the lost tooth and covered with a crown from above. The base of the root consists of a titanium alloy that easily survives in the bone. A dental implant helps to restore not only the appearance of the tooth, but also its function. The patient does not experience any discomfort or foreign body sensation. The procedure for dental implant placement takes place under local anesthesia, which eliminates pain. The department also carries out all-on-4 implantation, which allows to completely restore the dentition of one jaw on 4 implants within 1 day. The main advantage of dental implantology is that there is no need to grind or correct adjacent teeth.
A specially trained team of pediatric dentists works with young patients. The doctors conduct preventive dental examinations, treat and remove milk teeth, cover teeth with fluoride to prevent caries and cracks, use a sealant to fill fissures, treat gum diseases, infectious lesions and dental injuries, correct malocclusion, etc.
The department's range of dental services includes:
Dental implantology, including all-on-4 method
Sinus lift (bone augmentation)
Placement of of porcelain laminate veneers
Teeth whitening
Root canal treatment
Treatment of gum diseases
Placement of fixed prostheses
Tooth filling
Halitosis treatment
Orthodontic treatment (correction of malocclusion, deformed teeth)
Pediatric dentistry

Preventive dental examinations
Fluoride application for teeth
Fissure sealant for teeth
Treatment of gum diseases
Malocclusion correction
Caries treatment
Treatment of dental infections
Treatment of dental injuries
Extraction of milk teeth and placement of a temporary replacement tooth

Other therapeutic options
Curriculum vitae of Dr. med. Dr. dent. Deniz Işık
Deniz Işık is a competent dentist with a successful clinical experience. The doctor specializes in dental implantation, laser treatment of dental pathologies, and also provides services in the field of oral and maxillofacial surgery.
2001 Graduated from Istanbul University Faculty of Dentistry.
2008 Specialization in Oral and Maxillofacial Surgery, Istanbul University Faculty of Dentistry.
2009 Internship in Dentistry, University of Virginia, USA.
Clinical Interests
Dental implantology.
Sinus lift.
Laser dentistry.
Photo of the doctor: (c) Dentisland Oral and Dental Center
Department of Adult and Pediatric Dentistry.
Dentisland Oral and Dental Center Istanbul:

Request more information now.
We will be happy to answer all your questions.
---