Hirslanden Andreasclinic Cham Zug Cham
Department of Rheumatology (

603745

)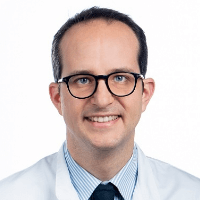 Dr. med.
Achim Thilo Braun
Specialized in: rheumatology
About the department
The Department of Rheumatology at the Hirslanden Andreasclinic Cham Zug Cham provides the comprehensive diagnostics and effective treatment of diseases affecting the joints and connective tissue structures. Of particular interest is the treatment of arthritis, arthrosis and osteoporosis. The Chief Physician of the department is Dr. med. Achim Thilo Braun.
The department's specialists apply the very latest treatment methods, for example, ultrasound-guided infiltration, as well as the infiltration under the guidance of C-arm X-ray system, drug treatment using disease-modifying antirheumatic drugs and other methods. If necessary, the doctors from related fields are involved, which guarantees effective treatment of even extremely complex clinical cases.
The first stage of treatment is the highly accurate diagnostics, which is the basis in the development of an optimal treatment regimen for each patient. It is very important to assess all pathological changes, which occur in the human body, since rheumatic diseases affect not only joints and connective tissues, but also internal organs.
The department specializes in the diagnostics and treatment of the following pathologies:
Inflammatory rheumatic diseases

Rheumatoid arthritis
Psoriatic arthritis
Systemic connective tissue diseases (for example, systemic lupus erythematosus)
Spondyloarthropathy (for example, ankylosing spondylitis)
Crystalline arthropathies (for example, gout)

Degenerative rheumatic diseases

Osteoarthritis
Spinal disc herniation
Spinal canal stenosis

Local rheumatic soft tissue lesions (for example, "tennis elbow" and "golfer's elbow")
Pain syndromes of rheumatic origin (for example, fibromyalgia)
Osteoporosis and other metabolic bone diseases
Other rheumatic diseases
The therapeutic options of the department include:
Drug treatment of acute and chronic pain syndrome caused by rheumatic diseases
Physiotherapy and occupational therapy
Development of special treatment regimens for patients with osteoporosis
Intensive therapy using disease-modifying anti-rheumatic drugs
Infusion therapy
Treatment using autologous conditioned plasma
Ultrasound-guided injection therapy
Infiltration of the intervertebral joints under the guidance of C-arm X-ray system
Psychological support
Other medical services
Curriculum vitae
Professional Сareer
Work in the Department of Rheumatology at the Hirslanden Andreasclinic Cham Zug Cham.
Private Rheumapraxis Cham Zug.
2015 - 2019 Work in Private Rheumatology Practice (MedicoPlus AG Einsiedeln).
2014 - 2015 Senior Physician, Department of Rheumatology, Municipal Hospital in Triemli, Zurich.
2006 - 2014 Professional training in Internal Medicine at the Cantonal Hospital Aarau and at the University Hospital Basel; Training in Rheumatology, Bethesda Spital Basel, University Hospital Basel and Reha Rheinfelden Rehabilitation Center.
Higher Education and Postgraduate Training
2015 Qualification in Interventions Pain Therapy, Swiss Society for Interventional Pain Management (SSIPM).
2015 Board certification in Physiotherapy and Rehabilitation Medicine.
2015 Board certification in Rheumatology.
2012 Board certification in Internal Medicine.
Memberships in Professional Societies
Swiss Medical Association (FMH).
Association of Swiss Assistant Doctors and Chief Consultants (VSAO).
Medical Association of the Canton of Zug (AGZG).
Swiss Society of Rheumatology (SGR).
Swiss Society of Physical Medicine and Rehabilitation (SGPMR).
Swiss Society for Interventional Pain Management (SSIMP).
Photo of the doctor: (c) Hirslanden AG
Department of Rheumatology.
Hirslanden Andreasclinic Cham Zug Cham:

Request more information now.
We will be happy to answer all your questions.
---