Hirslanden Andreasclinic Cham Zug Cham
Department of Adult and Pediatric Dermatology, Venereology (

603756

)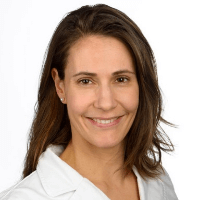 Dr. med.
Nathalie Irla-Vuille
Specialized in: adult and pediatric dermatology, venereology
About the department
The Department of Adult and Pediatric Dermatology, Venereology at the Hirslanden Andreasclinic Cham Zug Cham offers the full range of medical services in its areas of specialization. The area of competence of doctors includes the diagnostics and treatment of common dermatological diseases, allergic skin reactions, as well as aesthetic procedures to improve skin condition and rejuvenation. Of particular interest are the prevention, diagnostics and treatment of malignant and benign skin tumors. The department has an excellent technical base, the latest generation laser devices for the correction of skin defects. The department is headed by Dr. med. Nathalie Irla-Vuille.
The department's range of medical services includes:
General dermatology

Skin cancer prevention and assessment of moles on the body
Diagnostics and treatment of precancerous skin conditions
Diagnostics and treatment of skin cancer, including follow-up
Diagnostics and treatment of acne and rosacea
Diagnostics and treatment of eczema, neurodermatitis and allergic reactions
Diagnostics and treatment of psoriasis
Diagnostics and treatment of vitiligo
Diagnostics and treatment of urticaria
Diagnostics and treatment of infectious skin lesions
Diagnostics and treatment of skin diseases in children
Diagnostics and treatment of hair and nail diseases
Diagnostics and treatment of hyperhidrosis
Dermatosurgery
Light therapy
Spider vein removal
Correction of scars and keloid scars

Aesthetic dermatology

Coolsculpting – allows getting rid of local fat deposits by exposure to low temperatures
Emsculpt – allows building muscle and reduce body fat without physical effort
Laser techniques

Treatment of rosacea and spider vein removal
Removal of age spots
Removal of benign neoplasms on the skin
Removal of unwanted hair in various parts of the body
Scar revision
Skin lift and rejuvenation procedures
Microneedling
Acne treatment
TightSculpting (laser body correction and skin tone enhancement therapy)
LipLase (a method of stimulating collagen synthesis, which gives the lips a natural swelling and shape)

Kleresca non-invasive skin rejuvenation technique – stimulates collagen production, reduces pore size, eliminates small wrinkles and reduces scars
MiraDry for hyperhidrosis

Other medical services
Curriculum vitae
Professional Career
2014 Private Dermatological Practice, Zug.
2011 - 2014 Senior Physician, Department of Dermatology, University Hospital Bern.
2011 - 2014 Consulting Physician in Aesthetic and Laser Dermatology, University Hospital Bern (together with Dr. med. Maurice Adatto – President of the European Society of Laser Dermatology).
2006 - 2007 Work in the Department of Internal Medicine, Hospital Sonnenhof Bern.
2005 - 2006 Department of Surgery, Regional Hospital Burgdorf.
Higher Education and Postgraduate Training
2011 Board certification in Dermatology and Venereology, Swiss Medical Association (FMH).
2011 Specialization in Laser Medicine.
2007 - 2011 Training in Dermatology, University Hospital Bern.
2004 Doctoral thesis defense and doctorate in medicine, University of Bern.
1999 - 2004 Study of Human Medicine at the Universities of Fribourg and Bern.
Memberships in Professional Societies
Swiss Medical Association (FMH).
Photo of the doctor: (c) Hirslanden AG
Department of Adult and Pediatric Dermatology, Venereology.
Hirslanden Andreasclinic Cham Zug Cham:

Request more information now.
We will be happy to answer all your questions.
---