Department of Neurosurgery (

26301

)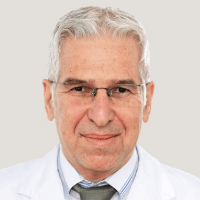 Prof. Dr. med.
Aminadav Mendelowitsch
Specialized in: neurosurgery
About the Department of Neurosurgery at Hirslanden Clinic Aarau
The Department of Neurosurgery at the Hirslanden Clinic Aarau offers the full range of modern diagnostics and treatment of diseases of the central and peripheral nervous system, including diseases, injuries and malformations of the skull and spine. The Chief Physician of the department is Prof. Dr. med. Aminadav Mendelowitsch.
The main focus in clinical practice is on the surgical treatment of cerebrovascular pathologies, brain tumors, trigeminal neuralgia and spinal diseases.
The department is proud of its outstanding medical and technical infrastructure – navigation systems, neuromonitoring systems, ultrasound devices and endoscopic systems. All these technologies make it possible to perform surgical manipulations with the highest accuracy and avoid damage to functionally important anatomical structures.
A highly qualified multidisciplinary team of experts in the field of neurosurgery, neurology, neuroradiology and neuropsychology takes care of the patients' health. All specialists work hand in hand to provide optimal individualized medical care. The patients can be admitted both on an inpatient and outpatient basis.
The department's spectrum of surgical services includes:
Microsurgical removal of brain tumors and the pituitary gland (in interdisciplinary collaboration with oncologists and radiation therapists)
Surgical treatment of vascular diseases of the brain and spinal cord

Aneurysms and vascular malformations
Ventricular shunting for impaired cerebrospinal fluid outflow
Treatment using the Gamma Knife system (at the Gamma Knife Center Hirslanden)
Interventional neuroradiological procedures (in collaboration with the Cantonal Hospital Aarau)

Surgical treatment of trigeminal neuralgia

Microvascular decompression
Selective rhizotomy

Surgical treatment of hydrocephalus

Shunting for cerebrospinal fluid diversion
Treatment of malformations accompanied by cerebrospinal fluid outflow block

Spinal surgery

Surgical treatment of herniated discs
Surgical treatment of spinal stenosis
Stabilization for instability of all parts of the spine
Surgical removal of spinal tumors
Surgical treatment of syringomyelia

Other therapeutic options
Curriculum vitae of Prof. Dr. med. Aminadav Mendelowitsch
Clinical Interests
Cerebrovascular surgery (aneurysms, cerebrovascular malformations, ventricular shunting).
Skull base surgery (brain tumors).
Impaired cerebrospinal fluid circulation.
Spinal surgery.
Professional Career
June 2005 Professorship.
December 2004 Visiting Professor for Neurosurgery, Huazhong University, Wuhan, China.
2003 Consulting Physician, Department of Neurosurgery (focus on skull base surgery), University Hospital Basel.
2000 - 2003 Senior Physician and Head of the Laboratory for Cerebrovascular Pathology at the Department of Neurosurgery of the University Hospital Basel.
1998 Foundation of the Working Group on Skull Base Surgery in northwestern Switzerland.
1996 Recognized International Fellow at George Washington University, Institute of Neurology, Washington, D.C., USA.
1995 - 1996 Specialization (scholarship) in cerebrovascular surgery and skull base surgery at George Washington University, Washington, D.C., USA.
1994 - 2000 Senior Physician, Department of Neurosurgery, University Hospital Basel.
Higher Education and Postgraduate Training
1999 Habilitation.
1994 Specialization in Neurosurgery, Swiss Medical Association.
1987 - 1994 Training in Neurosurgery in Basel and Bern.
1986 Doctoral thesis defense and doctorate.
1980 - 1986 Study of Human Medicine at the University of Basel.
Photo of the doctor: (c) Hirslanden AG
Department of Neurosurgery.
Hirslanden Clinic Aarau:

Request more information now.
We will be happy to answer all your questions.
---
Certificates