Department of Mammology (

26305

)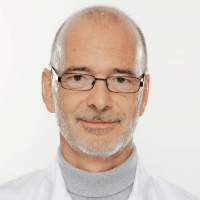 Dr. med.
Christian Alder
Specialized in: mammology
About the Department of Mammology at Hirslanden Clinic Aarau
The Department of Mammology at the Hirslanden Clinic Aarau specializes in the comprehensive diagnostics and treatment of breast diseases. The priority focus of clinical practice is the prevention, diagnostics and treatment of breast cancer. The department is headed by Dr. med. Christian Alder.
The work of the department's specialists is based on interdisciplinary treatment – mammologists, gynecologists, oncologists, radiation therapists and plastic surgeons are involved in the therapeutic process. The department holds weekly tumor boards with the participation of all the necessary doctors who jointly develop an individual treatment regimen for each patient. The main treatment methods include surgery, chemotherapy and radiation therapy. Whenever possible, operations are performed using sparing minimally invasive techniques.
The modern diagnostic and treatment methods are complemented by a carefully thought-out oncological rehabilitation program. The goal of this program is to restore physical performance, improve self-esteem and maintain a positive attitude, which in combination facilitates reintegration into everyday life.
The department is certified by the Swiss Cancer League and the Swiss Society of Senology, which indicates compliance with the highest standards of modern medicine in a health facility.
The diagnostic and therapeutic options of the department include:
Diagnostics

Mammography
Ultrasound diagnostics as an addition to mammography
Magnetic resonance imaging
Biopsy
Breast cancer staging

Lung X-ray, liver ultrasound and bone scintigraphy for metastasis detection
Determination of tumor markers

Treatment

Surgical treatment

Minimally invasive interventions for benign neoplasms (for example, fibroadenoma)
Sentinel lymph node removal
Breast removal with its subsequent reconstruction using implants, prostheses and patient's own tissues
Organ-preserving breast surgery followed by targeted radiation therapy
Breast reconstruction
Breast augmentation and reduction

Chemotherapy
Radiation therapy
Oncological rehabilitation after a course of treatment

Physiotherapy
Nutrition advice
Psycho-oncological care
Methods of alternative medicine

Other medical services
Curriculum vitae of Dr. med. Christian Alder
Clinical Interests
Preventive examinations and consultations.
Monitoring the course of pregnancy.
Infertility diagnostics.
Menopause and hormonal disorders.
Ultrasound diagnostics.
Amniocentesis.
Urinary incontinence treatment.
Laparoscopic surgery.
Breast surgery.
Consultation on contraception.
Professional Career
1984 - 1988 Senior Physician, Department of Gynecology, Cantonal Hospital Aarau.
1981 - 1984 Department of Gynecology and Obstetrics, University Hospital Basel.
1980 - 1981 Department of Surgery, Cantonal Hospital Bruderholz.
1978 - 1980 Department of Gynecology and Obstetrics, University Hospital Basel.
Education
1978 State Exam, University of Basel.
1971 - 1978 Study of Human Medicine, University of Basel.
Memberships in Professional Societies
Swiss Medical Association (FMH).
Swiss Society of Gynecology and Obstetrics (SGGG).
Swiss Society of Ultrasound in Medicine (SGUM).
Swiss Society for Fertility, Sterility and Family Planning (SGFSG).
Swiss Working Group on Laser Surgery.
Academy for Professional Retraining of the Swiss Society of Gynecology and Obstetrics (SGGG).
Photo of the doctor: (c) Hirslanden AG
Department of Mammology.
Hirslanden Clinic Aarau:

Request more information now.
We will be happy to answer all your questions.
---
Certificates