Department of Pulmonology and Thoracic Surgery (

26319

)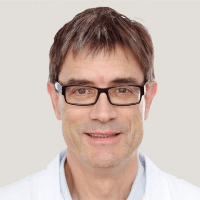 Dr. med.
Robert Bettschart
Specialized in: pulmonology, thoracic surgery
About the department
The Department of Pulmonology and Thoracic Surgery at the Hirslanden Clinic Aarau offers the full range of diagnostic and therapeutic services for patients with lung diseases, including lung cancer, bronchial asthma, pneumonia, COPD, obstructive sleep apnea and chronic bronchitis. The department also has successful experience in the treatment of lung cancer, which is carried out in cooperation with the Cancer Center Hirslanden Aarau. To provide high-quality patient care, the medical facility has excellent technical infrastructure, highly qualified medical personnel and professional nursing staff, which provides responsive care. The Chief Physician of the department is Dr. med. Robert Bettschart.
The department's tasks also include the implementation of preventive measures against the development of lung diseases. First of all, such measures include smoking cessation. Each patient is offered an individual smoking cessation program, which includes individual counseling.
The department also provides pulmonary rehabilitation, which aims to increase working capacity, endurance and, consequently, quality of life. The rehabilitation is extremely important for patients with chronic obstructive pulmonary disease, chronic bronchitis and bronchial asthma. The rehabilitation is provided on an outpatient basis, without obligatory hospitalization.
The department's range of medical services includes:
Pulmonology

Diagnostics of lung tumors
Body plethysmography
Arterial blood gas test
Spiroergometry
Bronchoscopy using the cutting-edge technical options, for example, endobronchial ultrasound
Thoracoscopy
Pleural puncture
Diagnostics of respiratory allergies
Drug therapy for pneumonia, tuberculosis, pleurisy, bronchial asthma, bronchitis, emphysema
Drug therapy for shortness of breath, chronic cough, chest pain
Chemotherapy and radiation therapy for lung cancer

Thoracic surgery (special focus on cancer surgery and videoendoscopic surgery)

Removal of lung tumors
Removal of lung metastases in tumors of a different location
Removal of thymic, pleural and thoracic wall tumors
Surgical treatment of emphysema
Surgical treatment of pleural empyema
Surgical treatment of chronic inflammatory processes in the lungs (tuberculosis, bronchiectasis)
Surgical treatment of lung injuries
Surgical treatment of diaphragm paralysis, diaphragmatic hernia

Prevention of lung diseases (individual smoking cessation programs)
Pulmonary rehabilitation
Sleep medicine
Treatment of chronic snoring
Treatment of obstructive sleep apnea
Other diagnostic and therapeutic options
Curriculum vitae
Clinical Interests
Sleep medicine.
Pulmonary function testing.
Bronchology.
Inhalation and oxygen therapy.
Bronchial asthma treatment.
Diagnostic and therapeutic thoracoscopy.
Professional Career
1999 - 2000 Senior Physician, Department of Pulmonology, Clinic Barmelweid.
1998 - 1999 Assistant Physician, Department of Pulmonology, University Hospital Basel.
1997 - 1998 Assistant Physician and Deputy Senior Physician, Department of Pulmonology, Clinic Barmelweid.
1997 Department of Pulmonology, Hammersmith Hospital, London, UK.
1995 - 1996 Assistant Physician, Department of Internal Medicine, University Hospital Zurich.
1993 - 1995 Assistant Physician, Department of Internal Medicine, Municipal Hospital in Zurich.
1992 - 1993 Assistant Physician, Department of Nephrology, Municipal Hospital in Zurich.
1991 - 1992 Assistant Surgeon, Hospital Richterswil.
Education
1990 State Medical Exam.
1984 - 1990 Study of Medicine at the Faculty of Medicine, University of Zurich.
Memberships in Professional Societies
Swiss Society for Pulmonology (SGP).
European Respiratory Society (ERS).
American Thoracic Society (ATS).
British Thoracic Society (BTS).
American College of Chest Physicians.
Swiss Society for Sleep Research, Sleep Medicine and Chronobiology (SGSSC).
Photo of the doctor: (c) Hirslanden AG
Department of Pulmonology and Thoracic Surgery.
Hirslanden Clinic Aarau:

Request more information now.
We will be happy to answer all your questions.
---
Certificates