Surgical resection of chordoma of the sacrum (program ID:

207069

)
Hirslanden Clinic am Rosenberg Heiden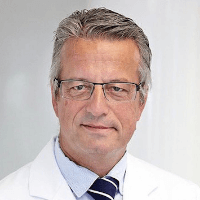 Head Physician
Dr. med.
Andreas Bischof
Specialized in: orthopedics
Department of Orthopedics
Program includes:
Initial presentation in the clinic
clinical history taking
physical examination
review of medical records
laboratory tests:

complete blood count
general urine analysis
biochemical analysis of blood
TSH-basal, fT3, fT4
tumor markers
indicators of inflammation
indicators blood coagulation

CT/MRI scan of the sacrum
biopsy and histological examination
preoperative care
resection of tumor
histologically and immunohistochemically examination of the removed tissues
symptomatic treatment
control examinations
the cost of essential medicines and materials
nursing services
full hospital accommodation
explanation of future recommendations
Required documents
Medical records
MRI/CT scan (not older than 3 months)
Biopsy results (if available)
Service
Price:
Type of program :
Expected duration of the program:
You may also book

Price:
About the department
The Department of Orthopedics at the Hirslanden Clinic am Rosenberg Heiden offers the high-precision diagnostics, modern conservative and surgical treatment of diseases of the musculoskeletal system. The main areas of specialization cover medical care for diseases and injuries of the hip, knee and shoulder, as well as sports injuries. The operating rooms are equipped with state-of-the-art devices for minimally invasive interventions. Particular attention is also paid to postoperative patient care aimed at the speedy restoration of mobility and the elimination of pain. The Chief Physician of the department is Dr. med. Andreas Bischof.
The department's spectrum of medical services includes:
Diagnostics and treatment of shoulder diseases

Arthroscopic interventions for shoulder impingement syndrome
Arthroscopic and open interventions for shoulder instability
Arthroscopic and open rotator cuff reconstruction
Interventions for calcification of the forearm and biceps brachii tendon lesions
Shoulder replacement surgery (implantation of inverse and anatomical shoulder prostheses)
Shoulder fracture treatment

Diagnostics and treatment of hip diseases

Hip replacement surgery (total)
Revision interventions to replace previously implanted hip prostheses
Joint-preserving surgery for hip impingement syndrome or articular lip lesions
Hip fracture treatment

Diagnostics and treatment of knee diseases

Arthroscopic knee surgery

Meniscal surgery
Operations on the anterior and posterior cruciate ligament
Microfracture surgery

Open joint-preserving surgery

Lateral ligament surgery
Treatment of patellar lesions
Treatment of cartilage defects using the AMIC technique

Partial and total knee replacement surgery
Revision interventions to replace previously implanted knee prostheses
Knee fracture treatment

Other therapeutic services
Curriculum vitae
Professional Career
1981 State Examination in Medicine, University of Basel.
1981 - 1983 Work in the Department of Surgery at the Spital Rorschach.
1984 - 1987 Work in the Cantonal Hospital St. Gallen.
1987 - 1991 Work at the Schulthessklinik in Zurich.
1991 - 2018 Jint Orthopaedic Practice Rosenberg.
Since 2018 Private Orthopaedic Practice Orthopädie Ost.
Clinical Interests
Shoulder surgery.
Sports orthopedics.
Trauma surgery.
Memberships in Professional Societies
European Society for Surgery of the Shoulder and Elbow (SECEC).
German-speaking Working Group on Arthroscopy (AGA).
Swiss Society of Sports Medicine.
Photo of the doctor: (c) Hirslanden AG
---
About hospital
Accommodation in hospital
Sacral chordoma
Program [Description]
Surgical resection of chordoma of the sacrum
Hospital: Hirslanden Clinic am Rosenberg Heiden
Type:
Duration:
Price:
date_range
There are 106 sacral chordoma treatment hospitals on Booking Health website
Show all clinics