Combined chemotherapy and radiotherapy for oropharyngeal cancer (program ID:

604855

)
Hirslanden Clinic Bois-Cerf Lausanne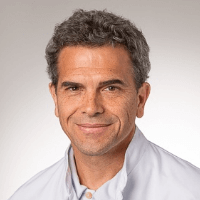 Head Physician
Dr. med.
Michael Betz
Specialized in: radiation oncology
Department of Radiation Oncology
Program includes:
Initial presentation in the clinic
clinical history taking
review of medical records
physical examination
laboratory tests:

complete blood count
biochemical analysis of blood
inflammation indicators (CRP, ESR)
TSH-basal, fT3, fT4
indicators of blood coagulation

CT-planning of radiation therapy
full course of radiation therapy
individual plan of the chemotherapy
(the cost of medicines is included)
symptomatic treatment
cost of essential medicines and materials
nursing services
control examinations
consultations of related specialists
How program is carried out
During the first visit, the doctor will conduct a clinical examination and go through the results of previous laboratory tests and instrumental examinations. After that, you will undergo an additional examination, including complete blood count, laboratory assessment of liver and kidney function. Based on the received results, the physician will elaborate the chemotherapy regimen, conduct radiotherapy planning with the help of CT or MRI, make the permanent tattoo marks on the skin and conduct CT simulation in order to assess the accuracy of the rays and the radiation dose. If necessary, related medical specialists will be involved in the elaboration of a treatment regimen (tumor board).
Chemotherapy and radiation therapy are carried out as the day hospital procedure, without mandatory admission to the hospital. At each visit, the physician will assess your general condition and the marks on the skin. After that, you will be placed in a shielded radiation therapy room, on a special table.
Each radiation therapy session lasts less than half an hour (including preparation). All this time, doctors and nurses are monitoring your condition, you can communicate with them through a loudspeaker. The procedure is completely painless. Depending on the planned course of treatment, you will visit the hospital from 1 to 3-5 times a week.
During the chemotherapy session, after the placement of a venous catheter, you will stay in a comfortable ward. An infusion system will be connected to the catheter, through which the required drug or a drug combination will be administered. All drugs are administered by intravenous drip, slowly, so the total duration of the infusion can be up to several hours. All this time, doctors and nurses will monitor your health condition closely.
After the completion of the chemotherapy and radiation therapy course, you will undergo control examinations aimed at assessing your condition and efficacy of treatment. After that you will receive the medical report with detailed recommendations regarding further follow-up and treatment. In the future, you will be able to have a distant consultation with your attending physician and schedule the next course of treatment, if necessary.
Required documents
Medical records
MRI/CT scan (not older than 3 months)
Biopsy results (if available)
Service
Price:
Type of program :
Expected duration of the program:
You may also book

Price:
About the department
The Department of Department of Radiation Oncology at the Hirslanden Clinic Bois-Cerf Lausanne offers various types of radiation therapy for the treatment of cancer. The Chief Physician of the department is Dr. med. Michael Betz.
The department has Varian Truebeam® linear accelerator of the latest generation, which allows the doctors to carry out high-precision irradiation of tumors without harm to healthy surrounding tissues.
Each radiation session is carefully planned with the participation of radiation therapists and medical physicists. The department cooperates closely with the Department of Oncology, the Department of Diagnostic and Interventional Radiology. Such multidisciplinary approach guarantees a successful treatment outcome.
The department specializes in radiation therapy for the following cancers:
Malignant breast tumors
Malignant tumors of the female reproductive organs
Malignant tumors of the male reproductive organs
Malignant tumors of the thoracic organs
Malignant musculoskeletal tumors
Malignant tumors of the nervous system
Malignant head and neck tumors
Other solid malignancies
Curriculum vitae
Clinical Interests
Breast cancer treatment.
Prostate cancer treatment.
Lymphoma treatment.
Gastrointestinal cancer treatment.
ENT cancer treatment.
Professional Career
December 2011 - October 2012 Head of the Department of Radiation Oncology, Cantonal Hospital Friborg.
July 2009 - November 2011 Head of the Department of Radiation Oncology, Geneva University Hospital.
April 2008 - June 2009 Deputy Head of the Department of Radiation Oncology, University Hospital Lausanne.
April 2007 - March 2008 Assistant Physician, Cancer Center, University Hospital Lausanne.
April 2006 - March 2007 Assistant Physician, Department of Internal Medicine, University Hospital Lausanne.
January 2004 - March 2006 Assistant Physician, Department of Radiation Oncology, University Hospital Lausanne.
Higher Education and Postgraduate Training
2010 Specialization in Radiation Oncology, Swiss Medical Association (FMH).
2003 Doctoral Degree, University of Lausanne, Switzerland.
1997 Bachelor's Degree in Mathematics, University of Texas at Austin, USA.
1996 Bachelor's Degree in History of Art, University of Texas at Austin, USA.
Memberships in Professional Societies
Scientific Association of Swiss Radiation Oncology (SASRO).
Swiss Society of Radiation Oncology (SRO).
European Society for Radiotherapy and Oncology (ESTRO).
American Society for Radiation Oncology (ASTRO).
Photo of the doctor: (c) Hirslanden AG
---
About hospital
Accommodation in hospital
Oropharyngeal cancer
Program [Description]
Combined chemotherapy and radiotherapy for oropharyngeal cancer
Hospital: Hirslanden Clinic Bois-Cerf Lausanne
Type:
Duration:
Price:
date_range
There are 52 oropharyngeal cancer treatment hospitals on Booking Health website
Show all clinics
Certificates