Department of Plastic, Reconstructive and Aesthetic Surgery (

276

)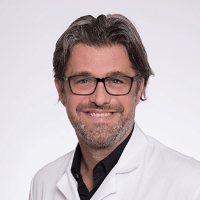 Dr. med.
Alexander Fuchs
Specialized in: plastic, reconstructive and aesthetic surgery
About the department
The Department of Plastic, Reconstructive and Aesthetic Surgery at the Hirslanden Clinic Meggen offers the full range of surgical treatment in the area of its specialization. It performs operations of varying degrees of complexity to correct defects of the face and entire body. The tasks of the department's doctors also include conservative anti-aging procedures – Botox and hyaluronic acid injections, as well as injections of autologous adipose tissue (the patient's own adipose tissue after special processing). When performing plastic surgery to improve the appearance of a person, surgeons aim to satisfy all the wishes of the patient and achieve a beautiful and at the same time the most natural result. The department is headed by Dr. med. Alexander Fuchs.
The department is equipped with cutting-edge technology and has high-tech operating rooms, which meet all current standards of sterility and safety. Each surgical procedure is preceded by medical consultations and necessary diagnostic tests to exclude possible health risks during surgery. The plastic surgeons always take into account the patient's wishes and provide them with the recommendations in order to achieve an impeccable result. A huge advantage for the patients is the availability of innovative 3D modeling programs, which allow them to see the predicted result even before the intervention. Such approach is widely used in Plastic Surgery Clinics around the world and allows the doctors to avoid unsatisfactory treatment results, repeated surgical corrections.
It is noteworthy that the department mostly performs sparing minimally invasive interventions, which are the gold standard of modern surgery. Such operations ensure high-quality results, which are not inferior to classical open surgery, but at the same time these operations allow the doctors to minimize damage to healthy organs and tissues. Minimally invasive surgery can significantly reduce the period of hospitalization and recovery of the patient after the intervention. The risks of infection and development of complications are practically zero. Thus, the department's patients can undergo surgery to correct their appearance without health risks.
The department's range of medical services includes:
Plastic surgery of the face and neck

Injection procedures for facial skin rejuvenation

Botulinum toxin injections
Hyaluronic acid injections
Autologous adipose tissue injections (patient's adipose tissue after special processing)

Surgical interventions for face and neck skin rejuvenation

Face and neck lift
Eyelid lift
Otoplasty (ear reshaping)
Lip augmentation

Body plastic surgery

Body contouring
Abdominoplasty (tummy tuck)
Liposuction
Shoulder lift
Thigh lift
Intimate plastic surgery
Hyperhidrosis (excessive sweating) treatment

Botulinum toxin injections
Surgical removal of sweat glands

Breast plastic surgery

Breast augmentation
Breast reduction
Breast lift
Gynecomastia treatment in men

Other therapeutic options
Curriculum vitae
Professional Career
January 2015 Clinical practice at the Leading Plastic Surgery Clinic in Bern.
May 2013 - December 2014 Work in the Meon Center AG.
July 2010 - April 2013 Senior Physician at the Medical One Clinic in Duesseldorf.
March 2010 - June 2010 Senior Physician, Department of Plastic, Reconstructive and Aesthetic Surgery, St. Josef Hospital Saarbruecken.
February 2009 - February 2010 Assistant Physician, Department of Plastic, Reconstructive and Aesthetic Surgery, St. Josef Clinic Saarbruecken.
July 2007 - November 2009 Assistant Physician, Department of Plastic and Reconstructive Surgery, Hand Surgery, Diakonie KH Friederikenstift Hannover.
January 2006 - June 2007 Assistant Physician, Department of Plastic and Hand Surgery, Schwarzwald Baar Clinic St. Georgen.
January 2005 - December 2005 Assistant Physician, Plastic, Aesthetic and Reconstructive Surgery Center, Meggen and Lucerne.
December 2003 - December 2004 Assistant Physician, Department of General Surgery and Traumatology, Caritas Clinic in Lebach.
Higher Education and Postgraduate Training
May 2010 Graduating and passing the examination for board certification.
April 2004 - July 2005 Training in Manual Therapy.
October 2013 Examination in Medicine.
1997 - 2003 Study of Human Medicine at the University of Saarland.
1996 - 1997 Study of Chemistry and Business Administration at the University of Saarbruecken.
Clinical Interests
Facial surgery: upper eyelid lift, lower eyelid lift, eyebrow lift, face lift, ear reshaping, treatment of wrinkles with Botox and hyaluronic acid, mesotherapy of the face, decollate and arms, thread lift, lip augmentation, cheek augmentation.
Body surgery: breast augmentation, breast lift, breast augmentation with simultaneous breast lift, breast reduction, nipple reshaping, shoulder lift, tummy tuck, liposuction (arms, abdomen, waist, hips, knees), body lift, intimate plastic surgery, thigh lift, hyperhidrosis treatment.
Gynecomastia treatment in men.
Surgery to treat skin tumors.
Memberships in Professional Societies
German Society of Plastic, Reconstructive and Aesthetic Surgeons (DGPRÄC).
Swiss Medical Association (FMH), Section for Plastic, Reconstructive and Aesthetic Surgery.
Photo of the doctor: (с) Hirslanden Clinic Meggen
Department of Plastic, Reconstructive and Aesthetic Surgery.
Hirslanden Clinic Meggen:

Request more information now.
We will be happy to answer all your questions.
---
Certificates