Hirslanden Salem-Spital Bern
Department of Orthopedics (

26421

)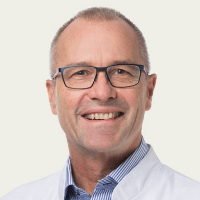 Dr. med.
Bernhard Christen
Specialized in: orthopedics
About the Department of Orthopedics at Hirslanden Salem-Spital Bern
The Department of Orthopedics at the Hirslanden Salem-Spital Bern offers the full range of medical services for patients with musculoskeletal diseases. The medical facility specializes in the conservative and surgical treatment of diseases and injuries of the shoulder, elbow, hip, knee and ankle, including revision surgery. An experienced and highly qualified team of orthopedic surgeons work for the benefit of their patients. Each expert has competence in the surgical treatment of a particular joint, for example, only the knee or only the shoulder, due to which operations are performed with excellent results. The favorable outcome of treatment is also facilitated by the excellent technical base, state-of-the-art tools of the operating rooms in the department. The department is headed by Dr. med. Bernhard Christen.
The therapeutic process begins with the comprehensive diagnostics, which gives the doctor a complete picture of the condition of the joint. Considering all the clinical indications, the doctor decides on the most suitable treatment tactics – this can be drug therapy in combination with physiotherapeutic treatment, surgical treatment. The specialists of the department offer an individual approach to all patients, and therefore they achieve the outstanding results. When providing treatment, the doctors set themselves the goal of not only relieving the patient from pain, but also to guarantee the restoration of joint function, including for sports.
It is worth noting that the key focus of the department's work is the hip endoprosthetics. The department is the leading center of the canton of Bern in this medical field. It uses the very latest surgical techniques, advanced surgical equipment, including automated three-dimensional planning devices and navigation systems. Recently, the department has also widely practiced robot-assisted surgery (MAKO system).
The department's therapeutic range of services includes:
Diagnosешсs and treatment of diseases and injuries of the shoulder and elbow

Arthroscopic surgery for compression syndromes, tendon rupture, joint instability
Open interventions for tendon rupture, joint instability and arthrosis
Shoulder prosthetics in elderly patients
Bone fractures in the shoulder and elbow
Shoulder and elbow stiffness
Infectious lesions of the shoulder and elbow

Diagnostics and treatment of diseases and injuries of the hip

Arthroscopic hip surgery
Surgical treatment of hip dislocation
Surgical treatment of hip impingement syndrome
Cartilage smoothing (arthroscopic surgery)
Tendon injuries
Total hip replacement surgery
Revision hip replacement surgery
Robot-assisted surgical treatment of the hip using the MAKO technique
Minimally invasive surgical methods for the treatment of hip diseases
Revision surgery for hip infection

Diagnostics and treatment of diseases and injuries of the knee

Arthroscopic meniscal surgery
Meniscal repair using suturing, meniscal root fixation
Plastic surgery of the anterior and posterior cruciate ligament
Cartilage smoothing (arthroscopic surgery)
Cartilage reparative regeneration (microfracturing, AMIC procedure)
Cartilage transplantation
Stabilization of the lateral ligaments of the knee
Treatment of patellar lesions
Prosthetics of the patellofemoral segment of the joint
Total knee replacement surgery
Revision knee replacement surgery
Robot-assisted interventions for knee replacement surgery

Foot and ankle surgery

Foot deformities
Hallux valgus
Hammer and claw toes
Toe arthritis
Metatarsal arthrosis and instability
Ankle and subtalar joint arthrosis
Flat feet
Hollow foot
Foot tendon injuries
Foot ligament injuries
Rheumatic lesions of the foot
Corrective osteotomy
Arthroscopic foot surgery
Minimally invasive foot surgery
Cartilage reconstruction
Ankle, big toe joint endoprosthetics
Foot fractures

Other medical services
Curriculum vitae of Dr. med. Bernhard Christen
Higher and Postgraduate Education
1991 - 2001 Postgraduate Education in Health Management NDS MiG IV, University of Bern. Master of Health Management.
1982 State Exam in Medicine.
1997 - 1982 Study of Human Medicine, University of Bern.
Professional Career
1997 - 2002 Leading Physician and Administrative Director for Orthopedics and Traumatology, Department of Surgery, Spital Bern Ziegler.
1996 Fellow, Shoulder Surgery, University Hospital Balgrist, Zürich.
1992 - 1997 Senior Physician, Department of Orthopedics, Bürgerspital Solothurn.
1992 Work as an Assistant Physician and Military Training.
Memberships in Professional Societies
Berne Society of Orthopedics (BGO), President (2003 - 2009).
Medical Association of Bern.
Medical Association of the Canton of Bern.
Swiss Orthopedic Club for Exchange and Continuing Education (SOCA).
Swiss Society of Orthopedics and Traumatology, President (2012 - 2014).
Swiss Society of Traumatology and Insurance Medicine (SGTV).
Foederatio Medicorum Chirurgicorum Helvetica (FMCH).
Association of Swiss Doctors (FMH).
Akademy of the Working Group on Endoprosthetics (AE).
German Society for Orthopedics and Trauma Surgery (DGOU).
European Society of Sports Traumatology, Knee Surgery and Arthroscopy (ESSKA).
European Knee Society (EKS).
American Association of Orthopedic Surgeons (AAOS).
Photo of the doctor: (c) Hirslanden AG
Department of Orthopedics.
Hirslanden Salem-Spital Bern:

Request more information now.
We will be happy to answer all your questions.
---