Hirslanden Salem-Spital Bern
Department of Angiology (

603760

)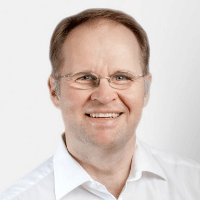 Dr. med.
Gereon Jachertz
Specialized in: angiology
About the department
The Department of Angiology at the Hirslanden Salem-Spital Bern offers the full range of diagnostic and therapeutic services for patients with diseases of the arteries, veins and lymphatic vessels. Of particular interest is the treatment of venous diseases, for example, varicose veins, chronic venous insufficiency of the lower limbs, etc. The Chief Physician of the department is Dr. med. Gereon Jachertz.
The department's doctors devote enough time to counseling patients, while the treatment is based on an individual approach to each clinical case. The specialists have extensive clinical experience, which guarantees their patients the top-class medical care and an optimal therapeutic result.
The department has state-of-the-art diagnostic equipment, which allows to detect even the initial pathological changes in the vessels and timely eliminate them. For example, atherosclerosis can significantly reduce the patient's life expectancy, therefore it is extremely important to detect pathology at the initial stages and prevent its progression. The early diagnostics of atherosclerosis is performed using high-resolution ultrasound imaging and duplex sonography, which allow the doctor to visually assess pathological changes in the arteries prior to the onset of symptoms.
The department's range of medical services includes:
Diagnostics and treatment of arterial diseases

Diagnostics

Stress and rest Doppler ultrasonography
Impulse oscillometry
Plethysmography
Color duplex sonography
Duplex scanning of the vessels
Measurement of intima-media thickness of the common carotid artery
Transcranial pulsed Doppler ultrasound and Duplex ultrasonography
Percutaneous measurement of the partial pressure of oxygen in the blood
Intra-arterial digital subtraction angiography
CO2 angiography

Treatment

Percutaneous transluminal angioplasty
Thrombolytic therapy
Stent placement

Diagnostics and treatment of venous diseases

Diagnostics

Light reflection rheography
Color duplex sonography, including functional examinations

Treatment

Foam sclerotherapy, including duplex sonography-guided one
Phlebectomy (mini stripping)
Endoluminal laser therapy
Treatment of chronic lower limb wounds

Diagnostics and treatment of diseases of the lymphatic vessels

Diagnostics

Fluorescence microlymphography

Treatment

Integrated manual lymphatic drainage according to Földi/Vodder

Diagnostics and treatment of capillary diseases

Diagnostics

Dynamic video capillary microscopy

Diagnostics and treatment of other vascular diseases
Curriculum vitae
Clinical Interests
Invasive angiology.
Treatment of venous diseases.
Treatment of arterial occlusion.
Treatment of diseases of the lymphatic vessels.
Endoluminal laser therapy.
Professional Career
1998 Work at the Angio Bellaria Center for Vascular Diseases, Zurich.
1996 - 1998 Deputy Senior Physician/Assistant Physician, Department of Angiology and Vascular Surgery, Department of Cardiothoracic Surgery, University Hospital Bern.
1995 - 1996 Assistant Physician, Department of Angiology, Regional Hospital La Carita, Locarno.
1995 Assistant Physician, Institute of Pathology (Institut Central Sion).
1994 - 1995 Senior Physician, Department of Internal Medicine, Visp Regional Hospital.
1992 - 1993 Assistant Physician, Department of Internal Medicine, Cantonal Hospital Olten.
1990 - 1992 Assistant Physician, Department of Rehabilitology, Clinica militare.
Higher Education
1990 Doctoral Degree, University of Bern.
Photo of the doctor: (c) Hirslanden AG
Department of Angiology.
Hirslanden Salem-Spital Bern:

Request more information now.
We will be happy to answer all your questions.
---