Hirslanden Salem-Spital Bern
Department of Spinal Surgery (

603769

)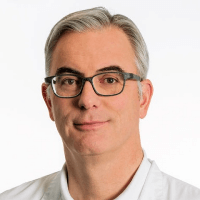 Prof. Dr. med.
Ulrich Berlemann
Specialized in: spinal surgery
About the Department of Spinal Surgery at Hirslanden Salem-Spital Bern
The Department of Spinal Surgery at the Hirslanden Salem-Spital Bern offers the full range of modern conservative techniques and surgical interventions for the treatment of spinal diseases. The department has the status of one of the largest specialized medical facilities of this kind in Switzerland. The Chief Physician of the department is Prof. Dr. med. Ulrich Berlemann.
The competent team of specialized doctors, physiotherapists and nurses cooperate closely for the benefit of their patients, applying all their clinical experience and expert knowledge for the restoration of back health. If possible, the doctors try to solve the problem using conservative methods, but in the case of absence of positive dynamics, they resort to surgery. Any therapeutic measures are prescribed individually, according to the medical history and diagnostic data of a particular patient.
The first stage of treatment is a consultation with a doctor, during which the patient tells in detail about his complaints, the type of pain syndrome, its location, previous injuries or spinal diseases, etc. Taking into account all the history data, the doctor will prescribe the necessary diagnostic examinations, including imaging – classical radiography and radiography with functional tests, CT, MRI, myelography. Based on the diagnostic results, the specialist will develop the most effective treatment regimen, which he will discusses with the patient and explain all the stages of upcoming treatment in an accessible manner.
It is worth noting that the department's operating rooms are equipped with state-of-the-art surgical microscopes, endoscopic systems, intraoperative navigation devices and intraoperative neuromonitoring, due to which all surgical procedures can be performed with maximum accuracy. The use of such progressive systems excludes damage to functionally important anatomical structures, which plays a key role in spinal surgery.
The department's range of medical services includes:
Conservative treatment methods

Physiotherapy
Manual therapy
Medical treatment, including imaging-guided drug blockades

Surgical treatment methods

Surgical treatment of degenerative spinal diseases

Microsurgical interventions on the intervertebral discs
Microsurgical decompression for spinal stenosis
Spinal stabilization, including minimally invasive techniques
Spinal fusion
Prosthetic repair of the cervical and lumbar intervertebral discs

Surgical treatment of spinal deformities

Spinal fusion for scoliosis and kyphosis
Repositional fusion for spondylolisthesis

Surgical treatment of spinal injuries

Ventral and dorsal spinal fusion
Thoracoscopic fusion
Treatment of osteoporotic fractures using minimally invasive methods (vertebroplasty and kyphoplasty, vertebral body replacement)

Surgical treatment of spinal tumors and infectious lesions

Removal of spinal tumors and metastases
Microsurgery for spinal cord tumors and its meninges

Other conservative and surgical treatment methods
Curriculum vitae of Prof. Dr. med. Ulrich Berlemann
Professional Career
2001 - 2003 Senior Physician, Department of Traumatology, Hannover Medical School, Germany.
1998 - 2001 Senior Physician, Department of Orthopedic Surgery, University Hospital Bern.
1995 - 1996 Assistant Physician, Department of Orthopedic Surgery, University Hospital Bern.
1993 - 1994 Research Fellow, M.E. Müller Institute for Biomechanics, University of Bern.
1992 - 1993 Assistant Physician, Department of General Surgery and Traumatology, Knappschaftskrankenhaus, Gelsenkirchen, Germany.
1992 Assistant Physician, Department of Orthopedics, Shoreham-by-Sea, England.
1991 - 1992 Assistant Physician, Royal National Orthopaedic Hospital, Stanmore/London, England.
1990 Head of Medical Services, Military Service, Aachen, Germany.
Higher Education and Postgraduate Training
2002 Rehabilitation.
2000 Board certification in Orthopedic Surgery, Swiss Medical Association (FMH).
1992 Doctoral thesis defense.
1989 Internship, Department of General Surgery, Academic Hospital Düren, Germany.
1982 - 1988 Study of Human Medicine at the Rhine-Westphalian Technical Aachen University, Germany.
Photo of the doctor: (c) Hirslanden AG
Department of Spinal Surgery.
Hirslanden Salem-Spital Bern:

Request more information now.
We will be happy to answer all your questions.
---