JSC Medicina Clinic Moscow
Department of Oncology (Sofia Cancer Center) (

318938

)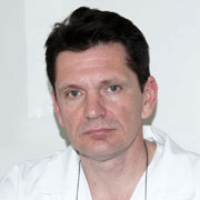 Dr. med.
Lobov Mikhail
About the Department of Oncology (Sofia Cancer Center) at JSC Medicina Clinic Moscow
The Department of Oncology at the JSC Medicina Clinic, headed by Dr. Lobov Mikhail Yurievich, offers both diagnostics and treatment of oncological diseases with the use of cutting-edge technologies. The department specializes in the treatment of prostate cancer, breast cancer, melanoma, leukemia, Hodgkin's lymphoma, non-Hodgkin's lymphoma, tumors of the brain, bones, eye, stomach, gallbladder and gastrointestinal tract. The main treatment methods include surgery, radiation therapy and chemotherapy.
For the diagnosis of cancer, the department has the latest capabilities, including PET/CT combined in Philips Gemini TF (Netherlands), SPECT CT with BrightView gamma camera and scintigraphy, which is performed on a gamma tomograph. In particular, scintigraphy is used after the detection of lung, breast, prostate, kidney, thyroid,colon cancers.
The Department of Oncology at the JSC Medicina Clinic has advanced expertise in the field of prostate cancer treatment At the same time, it offers both traditional (surgery, chemotherapy, radiotherapy) and innovative methods (immunotherapy, hormone therapy, cryotherapy). The choice of the treatment method is made by considering the features of the disease, age and general health of the patient. In the Sofia Cancer Center, the development of the prostate cancer treatment program is strictly individual, each stage of treatment is coordinated with the patient.
Further, the department is the recognized Radiation Therapy Center. The focus is placed on the best possible administration of the dose in the tumor and preservation of healthy tissues. Modern technologies of radiation therapy can reduce the adverse effects on healthy heart and lung tissues. Currently, the clinic successfully uses IMRT (intensity-modulated radiation therapy). This technique allows to reduce the amount of irradiation due to the maximum possible exclusion of normal tissues. In addition, such opportunities as IGRT (image-guided radiation therapy) and stereotactic hypofractionated radiotherapy are available here. The Section of Radiation Therapy is located at a depth of 8 meters and has an area of ​​748 square meters. It is equipped with two the most modern VARIAN TrueBeam linear accelerators (USA).
The main focuses of the Department of Oncology include:
Diagnostic Center

Magnetic resonance imaging
Single-photon emission computed tomography
PET/CT
Scintigraphy

Treatment

Prostate cancer
Breast cancer
Melanoma
Leukemia
Hodgkin's lymphoma
non-Hodgkin's lymphoma
Brain tumors
Bone tumors
Eye cancer
Stomach cancer
Gallbladder cancer
Gastrointestinal cancer

Radiation Therapy Center
Department of Chemotherapy
Genetic testing
Photo of the doctor: (c) Clinic JSC "Medicine"
Department of Oncology (Sofia Cancer Center).
JSC Medicina Clinic Moscow:

Request more information now.
We will be happy to answer all your questions.
---