JSC Medicina Clinic Moscow
Department for Spinal Pathology (

318941

)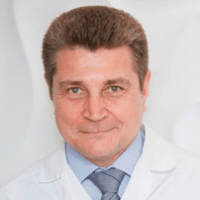 Candidate of Medical Science
Baklanov Andrei
Specialized in: neurosurgery
About the Department for Spinal Pathology at JSC Medicina Clinic Moscow
The Department of Spinal Pathology at the JSC Medicina Clinic, headed by Candidate of Medical Science Andrei Nikolayevich Baklanov, specializes in the safest surgical treatment of spinal pathologies by combining a high level of diagnostics with high-tech equipment of the operating room. The peculiarity of the department is a unique method of treating neuromuscular scoliosis.
All operations are performed under neurophysiological monitoring of the spinal cord conduction, which ensures the best possible safety of the patient's sensitive and motor function. There are used cutting-edge implantable constructions made from a new class of biocompatible materials, which makes it possible not to limit the motor activities and not to use an external corset in the postoperative period. In this case, one can sit, get up, walk the next day after all operations. The average duration of hospitalization is 3-5 days.
The Department of Spinal Pathology under the direction of Dr. Baklanov A.N. performs all types of spine surgeries:
Outpatient surgery (hospital stay up to 3 hours) - radiofrequency ablation for chronic pain in the spine; percutaneous removal of subligamentous lumbar disk hernia (hydroplastic disk (SpineJet ™); vertebroplasty for uncomplicated stable compression fracture, osteoporosis, hemangioma
Minimally invasive surgery for lumbar herniated disc, lateral stenosis of the vertebral canal with periradicular reconstruction of the lateral pocket and application of an anti-adhesion gel under either epidural or endotracheal anesthesia. The duration of hospitalization is 1 day, without any restrictions of motor activities in the postoperative period.
Microsurgical procedures for hernias and cervical spinal stenosis with the use of the rear and (or) front dynamic and (or) static implants.
Microsurgical decompression of the lumbar spinal canal in case of central stenosis.
Transpedicular stabilization of the spine when displaced (spondylolisthesis) by means of PLIF, ALIF, TLIF, XLIF.
Reconstructive surgery for traumatic spinal injuries
Operations for spinal cord and spinal tumors
Rear corrective transpedicular screw spondylodesis (+SPO, PSO, VCR) for spinal deformities of various etiologies at any age: post-traumatic kyphosis, Scheuermann's disease, Bechterew's disease, idiopathic, congenital, neuromuscular scoliosis (SMA, cerebral palsy, Duchenne muscular atrophy)
Photo of the doctor: (c) Clinic JSC "Medicine"
Department for Spinal Pathology.
JSC Medicina Clinic Moscow:

Request more information now.
We will be happy to answer all your questions.
---