Department of Traumatology (

195

)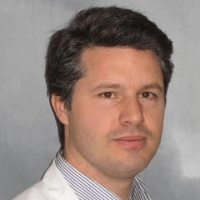 Dr. med.
Patrik Nothdurft
Specialized in: orthopedics, traumatology
About the Department of Traumatology at Klinik im Park Zurich
Advanced traumatology plays an extremely important role to maintain the health of the population. For example, in Switzerland, more than one million people receive injuries (for instance, back injuries) every year and all of them need a traumatologist; at that, the number of non-productive injuries is much higher than the number of injuries in the workplace. Each year, about 600,000 accidents of varying severity happens only at home. About 100 000 people get injured (back injuries) as a result of traffic accidents.
With the development of the ski resorts, sports injuries (back injuries) are becoming more frequent and reach approximately 300,000 cases per year. For this reason, the development of sports traumatology is of great medical and economic importance. It is noteworthy that sports traumatology distinguishes between sports: sport games, for example, football, and winter sports (skiing and snowboarding) are at the top.
Treatment of sports injuries (back injuries) and their consequences can cost a fortune. Nevertheless, the amounts of indirect costs as a result of accidents in the workplace or in a family environment are more significant. Effective fact finding and timely, adequate therapy and rehabilitation are prerequisites for speedy recovery of maximum efficiency. Our traumatologist will pay particular attention to the special needs of active athletes.
Photo of the doctor: (c) Hirslanden AG
Department of Traumatology.
Klinik im Park Zurich:

Request more information now.
We will be happy to answer all your questions.
---
Certificates