Department of Otolaryngology (

201

)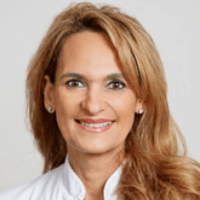 Dr. med.
Monika Gericke Estermann
Specialized in: otolaryngology
About the Department of Otolaryngology at Klinik im Park Zurich
Our clinic cooperates only with the best plastic surgeons who have years of experience in the field of facial plastic and reconstructive surgery. Plastic surgery is a highly advanced medical specialty in Switzerland, that is why facial plastic and reconstructive surgery will make your face look very natural. Our best plastic surgeons can combine the beauty and naturalness, reason (from a medical point of view) and the desired aesthetic effect. Continuing professional development and active cooperation with national and international institutions is our regular practice. Patients' wishes, needs and views are the basis for the plastic and reconstructive surgery at our clinic. During a personal consultation, our best plastic surgeons clearly explain what the result should be expected from the surgery. We do not promise a "miracle", but can explain what can be achieved and what kind of plastic and reconstructive surgery is feasible. Trust us! All surgeries at the Klinik Im Park are held in modern operating rooms. The best plastic surgeons and other experienced professionals from a variety of areas (e.g., anesthesia) can always be consulted. Interdisciplinary cooperation, the best plastic surgeons, modern infrastructure, and medical care personnel meet the safety criteria, which are important for maintaining your health. At Klinik Im Park, only discrete and polite professionals will work with you; you will find yourself in a cozy relaxed atmosphere, and a sense of comfort, safety and security will accompany you during the plastic and reconstructive surgery and in the postoperative period. To make your stay more comfortable, you will be offered delicious gourmet dishes. Our cuisine meets the highest requirements. We also have special staff that can fulfill individual requirements of patients of our Plastic and Reconstructive Surgery Department.
In addition, we offer our patients the opportunity to stay in comfortable rooms in a relaxing and health-promoting atmosphere.
Photo of the doctor: (c) Hirslanden AG
Department of Otolaryngology.
Klinik im Park Zurich:

Request more information now.
We will be happy to answer all your questions.
---
Certificates