Department of Adult and Pediatric Ophthalmology (

612959

)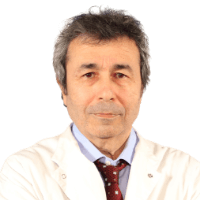 Prof. Dr. med.
Vedat Kaya
Specialized in: adult and pediatric ophthalmology
About the Department of Adult and Pediatric Ophthalmology at Liv Hospital Istanbul
The Department of Adult and Pediatric Ophthalmology at the Liv Hospital Istanbul offers the full range of modern diagnostic and therapeutic services for patients with diseases of the eye and its appendages. The department employs a highly qualified team of specialists who competently solve ophthalmic problems of any complexity – from surgical treatment of cataract, refractive eye surgery, keratoconus treatment to oculoplasty for medical and aesthetic purposes. The department is the first in Turkey where the innovative optiLASIK laser vision correction technique is used. It is noteworthy that the level of occurrence of infections and complications after the surgical treatment is 0%, so the patients can be confident bith in the safety and effectiveness of treatment. The department is headed by Prof. Dr. med. Vedat Kaya.
The department uses cutting-edge laser systems, including femtosecond and excimer lasers. Excimer laser therapy is recognized as the most effective treatment for such diseases as myopia, hyperopia and astigmatism. Prior to this type of treatment, the patient undergoes comprehensive diagnostics in order to make the doctor sure that the therapy will be as effective as possible in a particular case.
The department's specialists quite often admit patients with corneal diseases. Corneal pathologies can cause irreversible vision loss, so they require timely and quality treatment. The therapeutic options include drug treatment and laser correction at the initial stages, as well as corneal transplantation at the advanced stages of the pathology. Corneal transplantations are performed by specially trained ophthalmologists with rich clinical experience.
One of the most important focuses of the medical team is cataract treatment, which includes surgical intervention. The operation involves the use of a modern femtosecond laser, while pain relief is achieved by injecting anesthetic with a needleless injector. In the case of detection of any pathological changes during the operation, the doctor immediately corrects them within a single intervention.
Strabismus correction in children is one of the priorities of pediatric ophthalmologists. Surgery is usually the best treatment option for congenital strabismus. If strabismus occurs in a child over the age of 3 years, such methods as wearing glasses, performing a set of special exercises and other conservative techniques will be effective. If these methods do not lead to improvement, the doctors also resort to surgery. Pediatric ophthalmologists are also involved in the treatment of diplopia, amblyopia, cataracts, glaucoma and retinopathy of prematurity.
The main clinical focuses of the department include:
Diagnostics and treatment of retinal diseases

Retinal detachment
Hemorrhage, edema, and retinal detachment caused by diabetic or hypertensive angiopathy
Macular hole
Macular pucker
Age-related macular degeneration
Retinal injuries due to eye trauma

Diagnostics and treatment of corneal diseases

Keratoconus
Fuchs' endothelial dystrophy
Keratitis

Diagnostics and treatment of glaucoma
Laser cataract surgery
Oculoplastic surgery for aesthetic purposes and for medical indications
Laser vision correction (refractive eye surgery)

Myopia
Hypermetropia
Astigmatism

Diagnostics and treatment of pediatric ophthalmic diseases

Strabismus
Diplopia
Amblyopia
Cataract
Glaucoma
Retinopathy of prematurity

Other medical services
Curriculum vitae of Prof. Dr. med. Vedat Kaya
Higher Education
Doctoral Degree, Faculty of Medicine, Ankara University.
Work at the Beyoğlu Eye Hospital.
Work on the post of Visiting Professor.
Head of the Department of Adult and Pediatric Ophthalmology at the Liv Hospital Istanbul.
Clinical Interests
Treatment of corneal diseases.
Surgery of the anterior segment of the eye.
Refractive eye surgery.
Memberships in Professional Societies
Turkish Ophthalmological Association.
Photo of the doctor: (c) LIV Hospital
Department of Adult and Pediatric Ophthalmology.
Liv Hospital Istanbul:

Request more information now.
We will be happy to answer all your questions.
---
Certificates