Medical Park Gebze Hospital
Department of Cardiology (

599752

)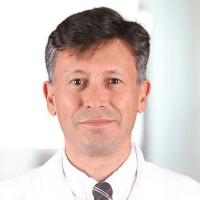 Prof. Dr. med.
Ömer Yiğiner
Specialized in: cardiology
About the Department of Cardiology at Medical Park Gebze Hospital
The Department of Cardiology at the Medical Park Gebze Hospital offers the top-class diagnostics and treatment for patients with cardiovascular diseases. The primary focus of the specialists is on the provision of medical care to people with coronary artery disease. Due attention is also paid to the diagnostics and treatment of atherosclerosis, heart arrhythmias. The department has created all conditions for optimal patient care – the best equipment, many effective treatment methods, experienced and talented doctors. The department is headed by Prof. Dr. med. Ömer Yiğiner.
The department's cardiologists specialize in diagnostic coronary angiography in the cases of suspected coronary artery disease. This procedure is used for coronary artery imaging. Prior to this manipulation, the patient will be necessarily injected a contrast agent intravenously. The coronary angiography is carried out in state-of-the-art laboratory with special equipment, without anesthesia. To ensure access to the coronary arteries, the department's cardiologists puncture the right femoral artery. Prior to artery puncture, the doctors anesthetize the inguinal region, after which they insert a plastic catheter into the artery. At this stage, the patient may experience slight pain. The next step is the insertion of a conductor through a plastic catheter that gradually moves through the vascular system to the coronary arteries, into which the contrast agent is injected. This allows the doctor to imagine coronary arteries in various projections and to determine the localization and severity of stenosis.
The department also has progressive Electrophysiology Laboratories, which are responsible for the comprehensive diagnostics of arrhythmias. The department treats arrhythmias using radiofrequency ablation.
The department's clinical focuses include:
Diagnostics and treatment of coronary artery disease
Diagnostics and treatment of arrhythmias
Diagnostics and treatment of cardiomyopathies
Diagnostics and treatment of pericarditis
Diagnostics and treatment of endocarditis
Diagnostics and treatment of myocarditis
Diagnostics and treatment of atherosclerosis
Diagnostics and treatment of heart failure
Diagnostics and treatment of angina pectoris
Diagnostics and treatment of other cardiac pathologies
Curriculum vitae of Prof. Dr. med. Ömer Yiğiner
Education and Specialization
Study of Medicine at the Gülhane Military Medical Academy.
Training Clinic of the Gülhane Military Medical Academy in Haydarpasa, Assistant Professor.
Professional Career
September 1994 - October 2001 Specialization in Cardiology, Training Hospital of the Gülhane Military Medical Academy in Haydarpasa and Cardiology Clinic in Istanbul.
October 2001 - October 2004 Cardiologist, Gümüşsuyu Military Hospital, Istanbul.
October 2004 - October 2005 Research Fellow in Cardiology, Johns Hopkins University, Department of Cardiology, Baltimore, USA.
October 2005 - October 2008 Cardiologist, Gümüşsuyu Military Hospital, Istanbul.
Clinical Interests
Arterial hypertension.
Heart valve diseases.
Heart failure.
Heart rhythm disturbances.
Echocardiography.
Pacemaker implantation.
Photo of the doctor: (c) Medical Park Hospitals Group
Department of Cardiology.
Medical Park Gebze Hospital:

Request more information now.
We will be happy to answer all your questions.
---