Medical Park Gebze Hospital
Department of Cardiac Surgery (

599754

)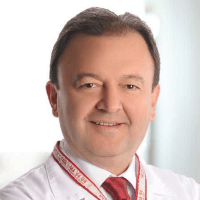 Prof. Dr. med.
Ahmet Hakan Vural
Specialized in: cardiac surgery
About the department
The Department of Cardiac Surgery at the Medical Park Gebze Hospital provides the comprehensive diagnostics and surgical treatment of all cardiovascular pathologies. Prior to the prescription of a surgical intervention, the doctors will necessarily assess the condition of the heart, the degree of progression of the pathology, as well as the presence of concomitant diseases. In most cases, the operations can be performed using minimally invasive, microsurgical techniques and the Da Vinci surgical system. These innovative options allow the surgeons to perform the surgical treatment on a beating heart, without connection to a heart-lung machine, and thereby to ensure the rapid recovery of patients. The Chief Physician of the department is Prof. Dr. med. Ahmet Hakan Vural.
The department's surgical service range includes:
Coronary artery bypass grafting
Heart valve reconstruction and replacement (aortic, mitral, tricuspid valves and pulmonary valve)
Surgery for aortic aneurysms (treatment of ascending aortic aneurysm and aortic arch aneurysms)
Surgery for left ventricular aneurysms
Surgery for cardiac tumors
Surgical treatment of peripheral vessels
Emergency interventions on the heart
Other surgical options
Curriculum vitae
Education and Specialization
1992 Study of Medicine at the Faculty of Medicine at the 9th of September University.
1994 and 1999 Specialization in Cardiac Surgery, Bursa Sevket Yilmaz Training and Research Hospital.
2009 Assistant Professorship, Bursa Sevket Yilmaz Training and Research Hospital.
2009 - 2013 Clinical Training, Bursa Sevket Yilmaz Training and Research Hospital.
2014 - 2018 Faculty of Medicine, Dumlupınar University, Department of Cardiac Surgery.
2015 - 2018 Dean of the Faculty of Medicine at the Dumlupinar University.
2018 Deputy Dean of Kütahya University of Health Sciences.
Clinical Interests
Coronary artery surgery.
Heart valve diseases.
Minimally invasive heart surgery.
Aortic surgery.
Peripheral vascular interventions.
Endovascular interventions.
Memberships in Professional Societies
Turkish Society of Cardiovascular Surgery.
Society of Phlebology.
Society of Vascular and Endovascular Surgery.
Photo of the doctor: (c) Medical Park Hospitals Group
Department of Cardiac Surgery.
Medical Park Gebze Hospital:

Request more information now.
We will be happy to answer all your questions.
---