Medical Park Gebze Hospital
Department of Thoracic Surgery (

599758

)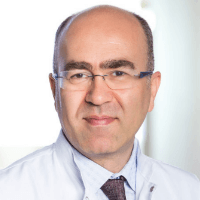 Assoc. Prof. Dr. med.
Ahmet Bülent Kargı
Specialized in: thoracic surgery
About the Department of Thoracic Surgery at Medical Park Gebze Hospital
The Department of Thoracic Surgery at the Medical Park Gebze Hospital offers the full range of surgical treatment of thoracic diseases and injuries, except for the heart. The department's surgeons have extensive experience in the field of surgical interventions on the thoracic wall, ribs, lungs, pleura, diaphragm and esophagus. If possible, the interventions can be performed using sparing minimally invasive techniques and imaging-guided thoracoscopy, which helps to reduce the risk of complications and accelerate the process of postoperative recovery. The department is headed by Assoc. Prof. Dr. med. Ahmet Bülent Kargı.
The surgical spectrum of the department includes:
Closed and open biopsy of the lungs, lymph nodes and pleura
Bronchoscopy (for the diagnostic and therapeutic purposes)
Esophagoscopy (examination of the inner surface of the esophagus using esophagoscope or broncho-esophagoscope)
Mediastinoscopy and mediastinotomy
Imaging-guided thoracoscopy
Corrective surgery for thoracic malformations (for example, Nuss procedure)
Surgical treatment of diseases of the thoracic wall, ribs and respiratory muscles, benign and malignant tumors, blunt and penetrating traumas of the thoracic wall and thoracic organs
Lung volume reduction surgery (for emphysema, shortness of breath)
Interventions for the diagnostics of lung cancer, its stage and treatment of this pathology (lung resection)
Surgical treatment of inflammatory lung diseases and their complications (bronchiectasis, tuberculosis, aspergillosis)
Surgical treatment of lung cysts
Surgical treatment of pulmonary emphysema
Surgical treatment of hydatid cysts, pleurisy, empyema and pleural tumors
Other surgical options
Curriculum vitae of Assoc. Prof. Dr. med. Ahmet Bülent Kargı
Education and Experience
1992 Faculty of Medicine, Akdeniz University.
1999 Work in the Department of Thoracic Surgery at the Siyami Ersek Hospital.
Clinical Interests
Lung cancer.
Bronchoscopy.
Esophageal carcinoma.
Rib tumors.
Memberships in Professional Societies
Turkish Society of Thoracic Surgery.
International Antalya Health Education Society.
Turkish Association of Green Crescent​.
Photo of the doctor: (c) Medical Park Hospitals Group
Department of Thoracic Surgery.
Medical Park Gebze Hospital:

Request more information now.
We will be happy to answer all your questions.
---