Medical Park Gebze Hospital
Department of Otolaryngology (

599762

)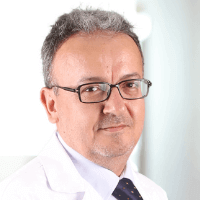 Prof. Dr. med.
Okan Akkaya
Specialized in: otolaryngology
About the Department of Otolaryngology at Medical Park Gebze Hospital
The Department of Otolaryngology at the Medical Park Gebze Hospital offers the full range of diagnostics and treatment of ENT disorders. The therapeutic process begins with the comprehensive diagnostics, including laboratory tests, imaging examinations and hearing tests. According to the diagnostic results, the optimal treatment regimen is selected taking into account the individual needs and wishes of the patient. The experienced team of highly qualified professionals cares about the patient's health. The Chief Physician of the department is Prof. Dr. med. Okan Akkaya.
A distinctive feature of the department is the availability of state-of-the-art equipment, which allows the otolaryngologists to combine endoscopic examinations with classical diagnostic techniques. In addition, the department has advanced operating rooms with the necessary medical equipment for surgical interventions of varying complexity, including extensive operations to treat head and neck tumors.
The key focuses of the department's specialization include:
Diagnostics and treatment of diseases of the outer, middle and inner ear, as well as dizziness

All diseases of the external auditory canal, ear tumors
Middle ear diseases

Acute and chronic inflammatory processes
Cholesteatoma
Fluid accumulation in the middle ear
Osteosclerosis

Inner ear diseases

Inflammations of the inner ear (for example, otitis media, vestibular neuritis)

Dizziness (Meniere's disease, benign paroxysmal positional vertigo)

Diagnostics and treatment of diseases of the nasal cavity and allergic reactions

Nasal septum deviation
Hypertrophic rhinitis
Nasal polyps
Intranasal cancers
Acute and chronic sinusitis
Seasonal and chronic allergic rhinitis

Diagnostics and treatment of oropharyngeal diseases

Inflammatory, cystic and oncological diseases of the oral cavity
Tonsil inflammation and enlargement
Snore

Diagnostics and treatment of laryngeal diseases

Inflammatory diseases of the vocal cords and closely spaced structures (laryngitis)
Vocal cord tumors
Laryngeal cancer
Speech disorders

Surgery for head and neck tumor

Inflammatory diseases and tumors of the salivary glands (sublingual, submandibular, parotid glands)
Thyroid diseases
Thyroid cysts
All types of cancer of the head and neck, oropharynx, tongue and jaw

Oral and maxillofacial surgery

Nose reshaping (rhinoplasty)
Ear reshaping (otoplasty)
Fractures of the lower and upper jaw, diseases of the jaw and facial bones

Other medical services
Photo of the doctor: (c) Medical Park Hospitals Group
Department of Otolaryngology.
Medical Park Gebze Hospital:

Request more information now.
We will be happy to answer all your questions.
---