Medical Park Gebze Hospital
Department of Gastroenterology (

599766

)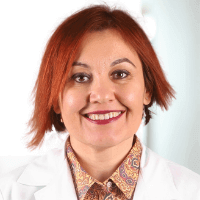 Assoc. Prof. Dr. med.
Züleyha Akkan Çetinkaya
Specialized in: gastroenterology
About the Department of Gastroenterology at Medical Park Gebze Hospital
The Department of Gastroenterology at the Medical Park Gebze Hospital offers the highly accurate diagnostics and effective treatment of gastrointestinal diseases. The department has modern endoscopy rooms, which provide the full range of diagnostic and therapeutic interventions. Thanks to the rich clinical experience and deep expert knowledge of the department's doctors, they can treat various clinical cases, ranging from simple to extremely complex pathological processes of the digestive system. The department is headed by Assoc. Prof. Dr. med. Züleyha Akkan Çetinkaya.
One of the most demanded procedures in the department is colonoscopy. It is a technique for imaging of the intestine and adjacent anatomical structures using a long flexible tube with a miniature camera and a light source at the end. Prior to procedure, the patient takes a laxative to clean out the intestines. A colonoscopy is the most reliable method for colon cancer diagnostics. In addition, the procedure can be used for preventive purposes, as it helps to detect and remove polyps and other background precancerous conditions. The colonoscopy can also be used for the diagnostics and long-term monitoring of such benign colon diseases as ulcerative colitis or Crohn's disease. In addition, it allows the patients to avoid a surgical intervention in the case of colonic haemorrhages.
The department also specializes in endoscopic retrograde cholangiopancreatography. This endoscopic procedure can be used for the diagnostics and treatment of occlusive diseases of the bile duct and pancreatic duct. During the procedure, the doctor inserts an endoscopic tube (duodenoscope) into the duodenum, where he can immediately eliminate the pathological process, which allows the patient to avoid repeated manipulations. Endoscopic retrograde cholangiopancreatography is performed by a specially trained team of gastroenterologist, an attending physician, a nurse and an anesthesiologist. The decision on the need for this procedure is made according to the clinical symptoms and blood test, ultrasound or tomographic examination.
The department's range of medical services includes:
Emergency hemostasis for gastrointestinal bleeding
Sclerotherapy
Treatment of hemorrhages caused by esophageal and gastric varices
Gastroscopy
Colonoscopy
Sigmoidoscopy
Endoscopic retrograde cholangiopancreatography
Magnetic resonance cholangiopancreatography
Bile duct and esophageal stenting
Stone removal and dilatation of bile duct strictures
Removal of gastrointestinal polyps (polypectomy)
Treatment of ulcer disease
Treatment of gastroesophageal reflux disease
Treatment of Crohn's disease and ulcerative colitis
Other diagnostic and therapeutic options
Photo of the doctor: (c) Medical Park Hospitals Group
Department of Gastroenterology.
Medical Park Gebze Hospital:

Request more information now.
We will be happy to answer all your questions.
---