Medical Park Gebze Hospital
Department of Obstetrics and Gynecology (

599778

)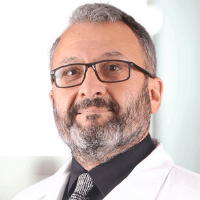 Prof. Dr. med.
Ahmet Rıza Esmer
Specialized in: obstetrics, gynecology
About the department
The Department of Obstetrics and Gynecology at the Medical Park Gebze Hospital offers the full range of diagnostic examinations and treatment methods for patients with diseases of the reproductive system. The department's ​​competence also includes integrated management of pregnancy, including high-risk pregnancies, ensuring safe childbirth and postnatal care for mother and baby. The department's gynecologists specialize in the treatment of cancer of the female reproductive system, precancerous conditions, menopause and menopausal syndrome, etc. In addition, the department demonstrates excellent results in the field of in vitro fertilization. The department is headed by Prof. Dr. med. Ahmet Rıza Esmer.
The specialists in general gynecology provide medical care to patients with infectious diseases of the genitourinary system, menstrual irregularities, climacteric syndrome and other diseases. Particular attention is paid to the early detection of genital cancer. When the diagnosis is confirmed, the specialists individually develop the optimal treatment scheme, which often includes both surgical intervention and drug therapy techniques.
The priority focus also includes fertility treatment. To ensure conception, the department uses modern and the most effective methods, including in vitro fertilization, intracytoplasmic sperm injection, cryopreservation of embryos and testicular sperm extraction.
The team of the department's obstetricians makes every effort to provide patients with an uncomplicated pregnancy and safe childbirth. Depending on the clinical case, the doctor selects the best parturition for the expectant mother – natural childbirth, C-section, childbirth with epidural anesthesia, etc. The department also includes a special Intensive Care Unit, which deals with the treatment of babies with congenital pathologies.
The department's key clinical focuses include:
Diagnostics and treatment of common gynecological disorders

Genitourinary infections
Climacteric syndrome
Menstrual disorders

Diagnostics and treatment of cancer of the female reproductive organs

Uterine cancer
Cervical cancer
Vulvar cancer
Ovarian cancer
Fallopian tube cancer

Diagnostics and treatment of infertility

In vitro fertilization
Intracytoplasmic sperm injection
Cryopreservation of embryos
Testicular sperm extraction

Integrated management of pregnancy
Childbirth (natural birth, C-section, pain relief during childbirth)
Postnatal care for mother and baby
Other medical services
Photo of the doctor: (c) Medical Park Hospitals Group
Department of Obstetrics and Gynecology.
Medical Park Gebze Hospital:

Request more information now.
We will be happy to answer all your questions.
---