Medical Park Gebze Hospital
Department of Urology (

599790

)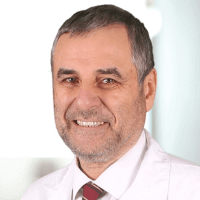 Prof. Dr. med.
Fuat Demirel
About the Department of Urology at Medical Park Gebze Hospital
The Department of Urology at the Medical Park Gebze Hospital offers all the options of modern medicine for the diagnostics and treatment of diseases of the reproductive system in men, urinary tract pathologies in men and women. The Chief Physician is Prof. Dr. med. Fuat Demirel.
The department's specialists are proud of the successful clinical results, and also regularly take advanced training courses to keep up with the innovations in their field of ​​competence. When performing surgical interventions, the preference is given to laparoscopic techniques, robot-assisted surgery and endoscopic interventions, which significantly shorten the hospitalization period and reduce pain.
The main clinical focuses of the department include:
Diagnostics and treatment of prostate cancer

Laparoscopic radical prostatectomy

Diagnostics and treatment of testicular diseases

Treatment of testicular cancer
Laparoscopic retroperitoneal lymphadenectomy
Undescended testicle repair surgery
Intra-abdominal laparoscopic examination

Diagnostics and treatment of kidney diseases

Laparoscopic radical nephrectomy (total removal of the kidney in cancer)
Laparoscopic partial nephrectomy (partial removal of the kidney in cancer)
Laparoscopic resection of a kidney cyst
Retrograde intrarenal surgery
Percutaneous nephrostolithotomy
Extracorporeal shock wave lithotripsy

Diagnostics and treatment of ureteral diseases

Ureteral stricture correction
Laparoscopic pyeloplasty
Ureter stone fragmentation
Laparoscopic ureterolithotomy
Laparoscopic ureteroneocystostomy
Laparoscopic reimplantation with Boari flap

Diagnostics and treatment of adrenal gland disorders

Adrenal tumor resection
Laparoscopic adrenalectomy

Diagnostics and treatment of bladder diseases

Cystocele correction
Laparoscopic sacrocolpopexy
Laparoscopic treatment of vesicovaginal fistula
Bladder tumor resection
Laparoscopic radical cystectomy and the formation of new urinary diversion pathways

Other medical services
Curriculum vitae of Prof. Dr. med. Fuat Demirel
Education and Specialization
1981 Medical Faculty of University of the Aegean.
1996 Master's Degree, Hacettepe University.
1990 Doctoral Degree, Gazi University.
Clinical Interests
Surgical treatment of urinary incontinence.
Kidney cancer.
Prostate cancer.
Testicular cancer.
Kidney stone disease.
Infertility in men.
Photo of the doctor: (c) Medical Park Hospitals Group
Department of Urology.
Medical Park Gebze Hospital:

Request more information now.
We will be happy to answer all your questions.
---