Medicana International Istanbul Hospital
Department of Oncology (

302975

)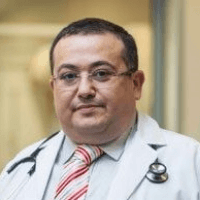 Prof. Dr. med.
Mutlu Demiray
About the Department of Oncology at Medicana International Istanbul Hospital
The Department of Oncology at the Medicana International Istanbul Hospital offers diagnostics and treatment of the full range of malignant diseases. The department specializes in the treatment of lung, breast, prostate, stomach and other abdominal cancers, etc. The department offers the full spectrum of treatments, ranging from conservative therapy with the chemotherapeutic drugs to the very latest methods of surgical treatment and radiotherapy. Both diagnostics and treatment are conducted in cooperation with other hospital's departments, including radiation oncology, nuclear medicine, etc. The Chief Physician of the department is Prof. Dr. med. Mutlu Demiray.
If surgical treatment is indicated, the physicians of the department have at their disposal all cutting-edge surgical techniques, including open surgeries and minimally invasive, laparoscopic interventions. The decision on the optimal surgical approach is made on the basis of the complex examination findings within the framework of the interdisciplinary tumor board. In order to ensure the best treatment efficiency, in addition to surgery, other methods of modern evidence-based medicine may be applied. These include chemotherapy, biological therapy, intraoperative radiotherapy, etc.
The department successfully treats superficial and deep-seated tumors of all organs. For example, the specialists of the department are experts in the treatment of breast cancer in women. In addition to surgical treatment, the supplementary therapeutic options include chemotherapy, hormone therapy, targeted therapy and radiotherapy. Whenever possible, preference is given to breast-conserving breast cancer treatment In the case of radical or partial breast resection, patients are offered the entire range of reconstructive surgery.
The combination of advanced technologies, close cooperation between various medical specialties during diagnostics and treatment, long experience of the physicians of the department ensure the best possible safety and treatment efficiency for patients.
The department's service range includes the diagnostics and treatment of the following diseases:
Lung cancer
Colorectal cancer
Breast cancer in women
Gynecological tumors
Prostate cancer
Thyroid cancer
Stomach cancer
Pancreatic cancer
Liver cancer
Head and neck tumors
Lymphomas
Sarcomas
Tumors of the musculoskeletal system
And other oncological diseases
Curriculum vitae of Prof. Dr. med. Mutlu Demiray
Education and Professional Experience
2000 Medical Education, Uludağ University Cerrahpaşa School of Medicine.
2005 Residency Program, Department of Internal Medicine and Medical Oncology, Uludağ University School of Medicine.
2005 - 2006 Instructor in the Department of Medical Oncology, Uludağ University School of Medicine.
2006 - 2007 Physician at the Bursa AOS Oncology Hospital, Bursa .
2007 - 2010 Physician at the Medical Park Hospital, Bursa.
2010 - 2011 Physician at the Istanbul Italian Oncology Hospital, Istanbul.
2011 - 2013 Physician at the OSM Middle East Hospital, Şanlıurfa.
2013 - 2014 Training in Hyperthermia, Integrative Oncology, Ruhr University, Bochum.
Chief Physician of the Department of Oncology, Medicana International Hospital Istanbul.
Photo of the doctor: (c) Medicana Health Group
Department of Oncology.
Medicana International Istanbul Hospital:

Request more information now.
We will be happy to answer all your questions.
---
Certificates