Medicana International Istanbul Hospital
Department of Nuclear Medicine (

535155

)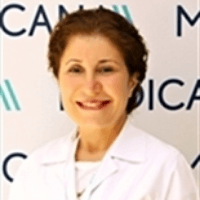 Prof. Dr. med.
Meryem Kaya
Specialized in: nuclear medicine
About the department
The Department of Nuclear Medicine at the Medicana International Istanbul Hospital offers the full range of radionuclide diagnostics and treatment methods. The main fields of their usage are oncology, cardiology and neurology. The head of the department is Prof. Dr. med. Meryem Kaya.
The department's specialists have at their disposal the cutting-edge PET-CT Discovery IQ devices, gamma cameras and scintigraphy systems, which provide the most detailed imaging of pathological changes, assessment of their localization, structure and spread. The positron emission tomography method in combination with computed tomography (PET-CT) provides the most informative imaging and has a high anatomical resolution. This method helps to distinguish a benign disease from a malignant one at a very early stage, as well as to draw more accurate conclusions about the size of the neoplasm, which helps to choose the optimal treatment strategy. The PET-CT is also widely used to diagnose Alzheimer's disease. While other imaging methods do not detect changes in the brain at an early stage of pathology, this method makes it possible to identify even minor metabolic disorders in the brain. Another effective imaging method is scintigraphy. This examination is based on the confirmation or exclusion of a disease with the help of imaging of the accumulation of a radioactive substance by organs or tissues.
The service range of the department includes:
Diagnostics using the state-of-art PET-CT Discovery IQ system for the following pathologies:

Oncological diseases
Brain diseases
Head and neck neoplasms
Esophageal diseases
Lung diseases
Colon and rectal diseases
Pancreatic diseases
Thyroid diseases
Cervical diseases
Lymphomas
Melanomas
Epileptic seizures
Conditions after coronary heart disease, coronary artery bypass grafting and myocardial infarction
Alzheimer's disease and various forms of dementia

Diagnostics of oncological diseases of the thyroid, spleen, liver, lungs and brain using gamma cameras
Scintigraphy

Myocardial scintigraphy
Skeletal scintigraphy (osteoscintigraphy)
Renal scintigraphy
Thyroid and parathyroid scintigraphy
Brain scintigraphy
Lung scintigraphy
Liver and gallbladder scintigraphy
Scintigraphy of the lacrimal glands and ducts (dacryoscintigraphy)
Lymph node scintigraphy

Other diagnostic options
Curriculum vitae
Education and Professional Experience
1983 - 1989 School of Medicine, Trakya University.
1989 - 1992 Physician, Antalya Kumluca Central Health Center.
1992 - 1993 Member of the Tekirdağ Çorlu Tuberculosis Association.
1993 - 1997 Postgraduate Education, Residency, Nuclear Medicine, School of Medicine, Trakya University.
1997 - 1999 Medical Specialist in Nuclear Medicine, School of Medicine, Trakya University.
1999 - 2008 Assistant Professor, Nuclear Medicine, School of Medicine, Trakya University.
Since 2008, Professor, Department of Nuclear Medicine, Medical International Istanbul Hospital.
Areas of Specialization
Nuclear medicine in the treatment of oncological diseases.
Nuclear medicine in the treatment of heart diseases.
Neuropsychiatrics.
Photo of the doctor: (c) Medicana Health Group
Department of Nuclear Medicine.
Medicana International Istanbul Hospital:

Request more information now.
We will be happy to answer all your questions.
---
Certificates