Memorial Antalya Hospital
Department of Dentistry (

603429

)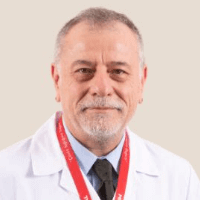 Dr. dent.
Nezihi Bayik
Specialized in: dentistry
About the Department of Dentistry at Memorial Antalya Hospital
The Department of Dentistry at the Memorial Antalya Hospital offers the full range of preventative dental care and dental treatment services. A competent team of doctors of the medical facility specializes in all areas of dentistry, including general and aesthetic dentistry, root canal treatment, dental prosthetics, implantology, etc. The patients are admitted in modern dental rooms fitted out with advanced equipment for carrying out procedures of varying degrees of complexity – from simple tooth whitening to difficult manipulations to restore the dentition with the help of implants. The main value and goal of the department's specialists is a healthy and beautiful smile of their patients. The department is headed by Dr. dent. Nezihi Bayik.
One of the department's priorities is aesthetic dentistry. The doctors quite often admit patients who want not only to improve dental health, but also get a beautiful smile without the slightest defect. The therapeutic offer of this area of dentistry includes such procedures as teeth whitening, installation of dental crowns and bridges, fillings, installation of special porcelain veneers, lumineers, etc.
No less popular service is implantology. The dentists of the department regularly perform such procedures, so the rich experience and the availability of innovative materials allow them to easily achieve excellent results. A dental implant is an excellent option for patients with severe tooth damages when it is impossible to restore them with less radical methods. The uniqueness of dental implants is that they can completely imitate the tooth with the root. Over time, the patient becomes so accustomed to the implant that he does not feel any difference. The implants are made of biologically neutral titanium material, so they grow together with the jawbone, which ensures their reliable fixation. The advantage of dental implantology is that it allows dentists to replace both one or more affected teeth and the entire dentition. Before implantation, the patient undergoes all the necessary imaging studies that allow for planing the procedure as accurately as possible.
In addition, the team of dentists deals with root canal treatment, tooth position correction using innovative braces, dental prosthetics, and also provides preventive dental services.
The dental rooms of the department strictly adhere to the sterilization and hygiene requirements. The dental equipment and instruments are processed in accordance with current professional recommendations. Thus, the patient can be sure that he will receive first-class dental care in compliance with all standards.
The department's range of dental services includes:
General dentistry

Preventive teeth examination, X-ray diagnostics
Dental filling
Tartar removal and tooth polishing
Professional teeth cleaning

Aesthetic dentistry

Teeth whitening
Dental crown placement
Dental bridge placement
Dental veneer placement
Dental lumineer placement

Dental implantology

Installation of single dental implants
Complete dentition restoration

Restoration of the entire dentition using All-on-4 or All-on-6 technique
Restoration of the entire dentition using single implants
Placement of dental bridge with its fixation on implants

Installation of various modern braces
Root canal treatment
Tooth extraction, including root apex resection
Treatment of gum diseases
Other dental options
Curriculum vitae of Dr. dent. Nezihi Bayik
Education
1984 - 1989 Study of Dentistry, Gazi University, Faculty of Dentistry, doctoral thesis defense on Prosthetics, Ankara, Turkey.
1977 - 1984 Study of Dentistry, Hacettepe University, Department of Dentistry, Ankara, Turkey.
Clinical Experience
Since 2018 Work in the Department of Dentistry at the Memorial Antalya Hospital, Antalya, Turkey.
1992 - 2018 Work in private dental practice, Antalya, Turkey.
Photo of the doctor: (c) Memorial Hospitals Group
Department of Dentistry.
Memorial Antalya Hospital:

Request more information now.
We will be happy to answer all your questions.
---
Certificates