Outpatient Diagnostic Center Charite Mitte Berlin
Department of Outpatient Diagnostics (

414305

)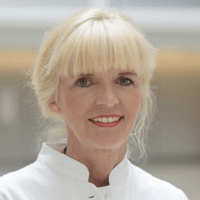 Prof. Dr. med.
Yvonne Dörffel
Specialized in: outpatient diagnostics
About the Department of Outpatient Diagnostics at Outpatient Diagnostic Center Charite Mitte Berlin
The Department of Outpatient Diagnostics at the Outpatient Diagnostic Center Charite Mitte offers the full range of modern diagnostic procedures, including cutting-edge imaging studies. All diagnostic programs correspond to the individual needs of the specific patient. Much attention is also paid to comprehensive counseling, primary (prevention of the development of the disease) and secondary (prevention of complications of existing diseases or their relapse) prevention. The department is headed by Prof. Dr. med. Yvonne Dörffel.
The medical team of the department has a unique experience and expertise in the diagnosis and treatment of the following diseases:
Arterial hypertension (certification as the Center of the German Hypertension League)
Metabolic disorders (endocrinology)
Diseases of the gastrointestinal tract and liver (gastroenterology)
Ultrasound diagnostics (patients receive care from doctors with more than 10 years of working experience and members of the German Society of Ultrasound in Medicine (DEGUM))
Other clinical focuses
It should be noted that preference is given to comprehensive, interdisciplinary medical care, therefore all the doctors of the department closely cooperate with the Departments of Rheumatology, Cardiology, Gastroenterology, Pulmonology, Infectology, Surgery, Urology, Radiology, Neurology, Dermatology and Psychosomatics. Thus, the patient can receive the optimal medical opinion and recommendations for the further therapeutic measures.
The department's range of diagnostic services includes:
Echocardiography (heart ultrasound)
Ultrasound examinations

Internal organs: liver, gallbladder, biliary tract, spleen, pancreas, kidneys, aorta, intestine, lungs, bladder, prostate
Extremity vessels, cerebral arteries and renal arteries
Thyroid and parathyroid glands

24-hour blood pressure measurement (on an outpatient basis)
Pulse wave velocity measurement
Electrocardiogram
ECG during exercise (ergometry)
Bioelectrical impedance analysis
Comprehensive diagnostic examination

Study of anamnesis, clinical examination and preparation of an individual check-up plan
Laboratory tests: check-up of all functions of the internal organs, control of the level of sodium, potassium, glucose, creatinine, uric acid, cholesterol, hormone levels, general blood test, urinalysis, tumor marker testing, etc.
Heart and lung examinations: radiography, ultrasound, ECG, pulmonary function test
Examinations of the cardiovascular system: stress ECG, 24-hour blood pressure measurement
Bioelectrical impedance analysis (diagnosis of human body composition): muscles, bones, fluid, fat, cell integrity
Assessment of the elasticity of vessels and their general condition (pulse wave analysis)
High-resolution ultrasound examinations (including Doppler and color Doppler scanning)
MRI, CT, gastroscopy, colonoscopy (according to medical indications)

Other diagnostic services
Curriculum vitae of Prof. Dr. med. Yvonne Dörffel
Since 2005, Prof. Dörffel is an expert in the treatment of hypertension (German Hypertension League). She has also defended her doctoral dissertation on arterial hypertension (1997 - 2002). The doctor is qualified in the field of ultrasound diagnostics in cardiology (1990), gastroenterology and endocrinology (1992), and since 1997 she has also received a certificate entitling her to teach in the field of ultrasound diagnostics. In addition, Dr. Dörffel is the owner of the Humboldt Award (Humboldt University of Berlin), Robert Koch Award for Scientific Activities and Louis Lewin Award for Innovations in Teaching. In 2011, Dr. Dörffel was awarded the title of the Best Docent in Clinical Research of the entire Faculty of Medicine at the Charite.
Photo of the doctor: (c) Medizinische Poliklinik Campus Charité Mitte (CCM)
Department of Outpatient Diagnostics.
Outpatient Diagnostic Center Charite Mitte Berlin:

Request more information now.
We will be happy to answer all your questions.
---