Primus Super Speciality Hospital New Delhi
Department of Adult and Pediatric Urology, Nephrology (

303025

)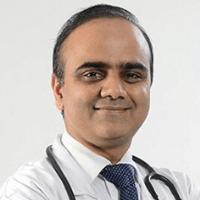 Dr. med.
Ashish Kumar Saini
Specialized in: adult and pediatric urology, nephrology
About the Department of Adult and Pediatric Urology, Nephrology at Primus Super Speciality Hospital New Delhi
Due to the difficulties associated with the organization of treatment in Turkey, Switzerland, South Korea and India, we are not currently processing requests to these regions.
If you are interested in treatment in Germany, please leave a request and our specialists will contact you as soon as possible.
The Department of Adult and Pediatric Urology, Nephrology at the Primus Super Speciality Hospital New Delhi provides the accurate diagnostics and effective treatment of a wide range of genitourinary diseases in men, kidney diseases in men and women. For patients with the advanced stage of kidney failure, kidney transplantation is offered. Of particular interest is the treatment of cancers, particularly, prostate cancer, bladder cancer and kidney cancer. In most cases, the doctors use non-invasive and minimally invasive treatment methods, thereby providing better results and speedy recovery of the patient. The Chief Physician of the department is Dr. med. Ashish Kumar Saini.
The department has a reputation as one of the leading Nephrology Centers in the country. It uses both classical and innovative treatment methods, but at the same time the priority is given to the patient with his personal needs and experiences. The department's doctors specialize in clinical nephrology, kidney transplantation, hemodialysis, hemodiafiltration, continuous dialysis, long-term renal replacement therapy, plasmapheresis and peritoneal dialysis. These therapeutic methods are widely used throughout the world and guarantee the best results for patients with impaired kidney function. All procedures are carried out in strict accordance with the standardized international protocols.
In the field of urology, an important department's is the treatment of benign prostatic hyperplasia. To eliminate the pathology and its symptoms, the doctors mostly select an individual drug treatment regimen supplemented by a lifestyle modification. If conservative therapy does not give the expected results, the department's doctors resort to laser prostatectomy.
In addition, the department's urologists are particularly competent in the treatment of erectile dysfunction, androgen deficiency (male menopause) and male infertility. The therapeutic options cover both conservative and surgical interventions. The treatment technique is selected depending on the individual clinical picture and the patient's indications.
If it is necessary to perform surgical treatment of kidney and urinary tract diseases in men, the department's doctors prefer minimally invasive surgery. Such operations involve the performance of one or more small skin incisions, in contrast to extensive incisions with open interventions. The benefits of minimally invasive surgery include rapid postoperative recovery, minimal pain, minimal blood loss and the risks of postoperative complications, while the effectiveness of this treatment is not inferior to open surgery.
The department's range of medical services includes:
Minimally invasive surgery

Laparoscopic nephrectomy (kidney removal)
Laparoscopic partial nephrectomy (removal of a part of the kidney)
Laparoscopic removal of kidney cysts
Laparoscopic pyeloplasty
Laparoscopic adrenalectomy (removal of adrenal glands)
Laparoscopic radical prostatectomy (for the treatment of prostate cancer)
Laparoscopic radical cystectomy
Laparoscopic ureterolithotomy
Laparoscopic percutaneous nephrolithotripsy for calculus removal in ectopic kidney disease
Laparoscopic treatment of varicocele
Laparoscopic sacrocolpopexy

Endourological procedures

Urethroscopy
Cystoscopy
TURP (transurethral resection of the prostate)
HoLEP (holmium laser enucleation of the prostate)
Nephroscopy
Percutaneous nephrolithotripsy
Retrograde intrarenal surgery

Reconstructive urologic surgery

Bladder augmentation
Creation of an artificial orthotopic bladder
Botox injection into the bladder
Circumcision
Reconstruction of the reproductive organs
Penile prosthesis
Urethral reconstructive surgery
Ureter replacement, Boari flap or transureteroureterostomy
Vasectomy reversal

Kidney transplantation
Dialysis procedures

Hemodialysis
Hemodiafiltration
Continuous dialysis
Long renal replacement therapy
Plasmapheresis
Peritoneal dialysis

Diagnostics and treatment of male infertility
Diagnostics and treatment of androgen deficiency (male menopause)
Diagnostics and treatment of urinary incontinence in men and women
Diagnostics and treatment of kidney stone disease
Diagnostics and treatment of pediatric urologic diseases

Night and day urinary incontinence
Urolithiasis (stones in the bladder and kidneys)
Chordee and other penile malformations
Phimosis
Undescended testis (cryptorchidism)
Hypospadias
Epispadias
Urinary obstruction and vesicoureteral reflux
Neurogenic bladder
Antenatal hydronephrosis
Genitourinary malformations and congenital defects

Other medical services
Curriculum vitae of Dr. med. Ashish Kumar Saini
Dr. med. Ashish Kumar Saini has received his Bachelor in Medicine and Bachelor in Surgery, as well as Master in Surgery at the prestigious King George's Medical University, Lucknow. He received specialized training in urology at the All India Institute of Medical Sciences, New Delhi. This was followed by the position of Assistant Professor of Urology at the All India Institute of Medical Sciences, New Delhi. His experience in this facility is 9 years. During his work at the All India Institute of Medical Sciences, he performed more than 5,800 urological operations, thanks to which he gained invaluable experience. Before he was engaged in private practice, he was trained in all fields of surgical urology, particularly, in the field of urologic oncology and reconstructive urology, robotic and minimally invasive surgery. After successful clinical practice at the Rg hospital, Dr. Ashish Saini began to work in the Department of Adult and Pediatric Urology, Nephrology at the Primus Super Speciality Hospital New Delhi. He also made a great contribution to research (author of more than 30 publications on the PubMed website, author of numerous chapters in books on urology and surgery). He was awarded the Gold Medal of Prof. B. G. Prasad for excellent marks during his studies to become Bachelor of Medicine and Bachelor of Surgery. He also received a gold medal (Dr. GR Chawla Gold Medal) for outstanding work as a resident at the All India Institute of Medical Sciences (2010). He underwent professional training in robot-assisted and minimally invasive surgery under the guidance of well known Dr. Inderbir Gill at the University of Southern California and the University of California at Los Angeles (under the guidance of Dr. Shlomo Raz). In 2010, Dr. Saini received a scholarship for residency of the American Urological Association, whereas in 2015 he received a scholarship from the Japan Urological Association for kidney transplantation. In 2016, he received the Japan and Pride of India Award.
The doctor's special clinical interests include endourology, laparoscopic and robot-assisted urologic surgery, uro-oncology, reconstructive urology and kidney transplantation.
Photo of the doctor: (c) Primus Hospital
Department of Adult and Pediatric Urology, Nephrology.
Primus Super Speciality Hospital New Delhi:

Request more information now.
We will be happy to answer all your questions.
---