Primus Super Speciality Hospital New Delhi
Department of Adult and Pediatric Cardiology, Cardiothoracic Surgery and Vascular Surgery (

303031

)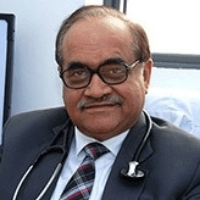 Prof. Dr. med.
Harsh Wardhan
Specialized in: adult and pediatric cardiology, cardiothoracic surgery, vascular surgery
About the department
The Department of Adult and Pediatric Cardiology, Cardiothoracic Surgery and Vascular Surgery at the Primus Super Speciality Hospital New Delhi offers high-quality services for the diagnostics and treatment of the full range of cardiovascular diseases. In addition to qualified medical personnel, the department has modern diagnostic equipment, operating rooms for interventional procedures and intensive care units equipped with the necessary advanced technologies. All this forms a solid basis for the provision of excellent medical services. The department is headed by Prof. Dr. med. Harsh Wardhan.
The key to successful treatment is a comprehensive diagnostics, and therefore, the department offers patients all the modern diagnostic examinations for the detection of the slightest deviations in the heart work. These include all types of electrocardiography, echocardiography, chest radiography, Holter monitoring, etc.
Whenever possible, the department's cardiologists use optimal non-invasive treatment methods. In addition to the intake of medications, a patient should have a lifestyle modification. He is recommended to eat properly, perform moderate physical exercises, as well as give up bad habits, for example, smoking.
However, it is not always possible to restore normal heart function using conservative therapy methods. In this case, the patient is indicated sparing interventional treatment or surgery. The department's specialists have extensive experience in modern invasive cardiac procedures. The most common are cardiac catheterization, angioplasty, stent implantation, balloon valvuloplasty, coronary angiography, peripheral angiography, atherectomy, temporary pacemaker, implantation of permanent cardiac pacemaker (PCP) and placement of implantable cardioverter-defibrillator (ICD).
In addition, the department employs top-class cardiothoracic and vascular surgeons who have a perfect command of all techniques for performing operations on the heart and other thoracic organs. The surgical treatment of cardiovascular diseases in children is performed by a specially trained team of pediatric surgeons. The surgical interventions are carried out in ultramodern operating rooms with innovative equipment and monitoring systems.
The department's range of medical services includes:
Non-invasive cardiology

Clinical examination
Electrocardiography
Chest X-ray
Biochemical examinations
2D and 3D echocardiography
Contrast-enhanced echocardiography
Transesophageal echocardiography
Stress electrocardiography
Stress echocardiography
Dobutamine stress echocardiography
Dopplerography of the carotid and peripheral arteries, veins, radial and renal arteries, internal thoracic artery

Invasive cardiology

Coronary angiography
Angiography of the peripheral blood vessels
Angioplasty and stent implantation
Implantation of pacemakers
Implantation of defibrillators
Cardiac radiofrequency catheter ablation
Closure of atrial septal defects, ventricular septal defects and patent ductus arteriosus
Cardiac resynchronization therapy
Placement of ventricular assist device

Cardiothoracic and vascular surgery

Coronary artery bypass grafting with and without a heart-lung machine
Heart valve interventions (replacement and reconstruction), including transcatheter aortic valve implantation
Maze procedure
Bentall procedure
Aortic surgery, including interventions in aortic dissection
Hybrid surgery
Thoracic interventions

Lobectomy
Pneumonectomy
Segmental lung resection
Biopsy
Video-assisted thoracoscopic surgery

Vascular interventions

Surgical treatment of aortic aneurysms
Interventions in aortic dissection
Bypass surgery in occlusive peripheral arterial disease of the lower limbs
Endovascular interventions

Pediatric cardiology

Percutaneous balloon pulmonary valvuloplasty
Closure of defects of atrial septal defects, ventricular septal defects and patent ductus arteriosus
Cardiac catheterization

Pediatric cardiac surgery

Non-invasive heart surgery, such as closure of the patent ductus arteriosus, Glenn procedure, pulmonary artery stenosis, pacemaker implantation
Simple open heart surgeries (for example, closure of atrial septal defect, ventricular septal defect)
Complex open heart surgeries (for example, intracardiac interventions, arterial switch operation, double switch operation)
Aortic valve replacement and reconstruction, Ross procedure

Other medical services
Curriculum vitae
Prof. Dr. med. Harsh Wardhan heads the Department of Adult and Pediatric Cardiology, Cardiothoracic Surgery and Vascular Surgery at the Primus Super Speciality Hospital New Delhi. The doctor is a world famous cardiologist whose experience in medicine is over 40 years. He specializes in interventional cardiology and cardiac electrophysiology. Previously, he worked as a Professor, Consultant and Head of the Department of Cardiology at the Dr. RML Hospital and PGIMER in New Delhi. Dr. Wardhan has many scholarships and honors, including the WHO scholarship, the JICA scholarship, scholarships from the American College of Cardiology, the European Society of Cardiology, the Indian Society of Cardiology and the Indian College of Physicians. In addition, the doctor has always been involved in teaching activities. He was appointed as Professor of Cardiology at the Guru Gobind Singh Indraprastha University, as well as Curator in Dissertations for graduate students at the University of Delhi. In 2016, he also became Honorary Professor at the Indira Gandhi Technological and Medical Sciences University. In 2017 and 2018, he worked as President of the Cardiological Society of India, Section of New Delhi.
Photo of the doctor: (c) Primus Hospital
Department of Adult and Pediatric Cardiology, Cardiothoracic Surgery and Vascular Surgery.
Primus Super Speciality Hospital New Delhi:

Request more information now.
We will be happy to answer all your questions.
---