Primus Super Speciality Hospital New Delhi
Department of Adult and Pediatric Dermatology (

303033

)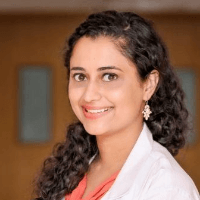 Dr. med.
Navya Handa
Specialized in: adult and pediatric dermatology
About the department
The Department of Adult and Pediatric Dermatology at the Primus Super Speciality Hospital New Delhi offers all the options of modern diagnostics and treatment of skin diseases, sexually transmitted infections and leprosy. It also provides many cosmetic services and specialized treatment for skin diseases in infants, children and adolescents. The purpose of the department's doctors is to provide a highly professional and comprehensive medical care focused on the patient with his individual needs and wishes. The department is headed by Dr. med. Navya Handa.
Among the priority focuses of clinical practice is the treatment of sexually transmitted infections. The therapeutic offer in this area also includes the prevention and counseling aimed at overcoming the psychological discomfort of the diagnosis and treatment of the partner.
The department's experienced surgeons also perform various surgical procedures, including Mohs micrographic surgery, reconstructive facial interventions, nail operations, etc. The department widely applies phototherapy and photodynamic therapy, which are effective treatment methods of a number of skin diseases, including psoriasis and eczema. As a rule, to achieve the optimal result using these types of therapy, a patient requires a course of treatment, which will last several months. The patient should visit the department 2-3 times a week.
The department's range of medical services includes:
Diagnostics and treatment of acne
Diagnostics and treatment of autoimmune skin lesions
Diagnostics and treatment of contact dermatitis
Diagnostics and treatment of eczema
Diagnostics and treatment of hair loss
Diagnostics and removal of potentially dangerous nevi
Diagnostics and treatment of melanoma
Diagnostics and treatment of nail diseases
Diagnostics and treatment of psoriasis
Diagnostics and treatment of rosacea
Diagnostics and treatment of skin cancer (benign, precancerous and malignant skin lesions)
Diagnostics and treatment of infectious skin lesions (epidermophytosis and ringworm, herpetic infections)
Diagnostics and treatment of warts
Cosmetic dermatology

Anti-aging procedures (injections of fillers, including Restylane Vital fillers, etc.)
Therapeutic procedures in hair loss (PRP-therapy, mesotherapy for hair, dermaroller)
Non-surgical facelift (using threads)
Facial whitening
Procedures for the elimination of pigmentation, dull skin
Vampire facelift
Removal of moles, warts, acne scars, post acne marks
Chemical peeling

Other medical services
Curriculum vitae
Dr. med. Navya Handa s a dermatologist, cosmetologist and laser surgeon, as well as the head of the Department of Adult and Pediatric Dermatology at the Primus Super Speciality Hospital New Delhi. She received her Bachelor of Medicine and Bachelor of Surgery at the Armed Forces Medical College (AFMC) in Pune. She received her Doctorate in Dermatology, Venereology and Leprology at the Dr. S.N. Medical College, Jodhpur. Of particular interest to the doctor are the treatment of hair and nail diseases, acne, pediatric dermatological diseases, pigmentation disorders, as well as aesthetic dermatological procedures and anti-aging procedures. She is the author of 6 publications and 5 book chapters. Dr. Handa is a member of the Indian Association of Dermatologists, Venereologists & Leprologists (IADVL).
Prizes and Honors
IADVL GSK National Quiz Program for Post Graduate Students.
First IPCA Intradepartmental PG Quiz Award.
Photo of the doctor: (c) Primus Hospital
Department of Adult and Pediatric Dermatology.
Primus Super Speciality Hospital New Delhi:

Request more information now.
We will be happy to answer all your questions.
---