Primus Super Speciality Hospital New Delhi
Department of General Surgery (

303038

)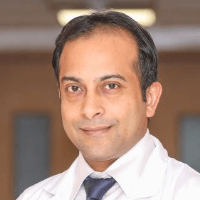 Dr. med.
Rajat Goel
Specialized in: general surgery
About the Department of General Surgery at Primus Super Speciality Hospital New Delhi
Due to the difficulties associated with the organization of treatment in Turkey, Switzerland, South Korea and India, we are not currently processing requests to these regions.
If you are interested in treatment in Germany, please leave a request and our specialists will contact you as soon as possible.
The Department of General Surgery at the Primus Super Speciality Hospital New Delhi offers the full range of surgical interventions in the area of its specialization. One of the key focuses is bariatric surgery. The department has state-of-the-art surgical equipment, so the operations are mainly performed using sparing minimally invasive techniques. The department's surgeons have rich experience and impeccable reputation not only in their home country, but also throughout the world.
The department is headed by Dr. med. Rajat Goel. He is a highly qualified surgeon with 11 years of experience in laparoscopic surgery. In addition, he has performed about 650 bariatric surgical interventions.
The department's doctors prefer minimally invasive surgery, which is the gold standard in modern medicine. During surgery, they insert a special instrument, called laparoscope, and other miniature surgical instruments into the abdominal cavity through small incisions (3-12 mm). A tiny video camera is attached to the laparoscope, which shows the internal organs and the surgical field on high-resolution monitors. The incisions during such operations are usually closed with surgical glue or absorbable suture material, so sutures are barely noticeable after a few weeks. The main advantages of such operations include minimal pain, small scars, rapid recovery of the patient and, consequently, a rapid return to his normal life.
Bariatric surgery is one of the main activities in the department. This type of surgery helps people to lose weight and to lead a healthier lifestyle. The treatment of obesity requires a multidisciplinary approach, which includes not only surgical intervention, but also diet, drug therapy, physical activity and psychological support. In this field, the surgeons perform such surgical interventions as laparoscopic gastric banding, laparoscopic sleeve gastrectomy, laparoscopic gastric bypass surgery and laparoscopic mini gastric bypass surgery. All of the above operations help patients to lose about 60-70% of excess weight.
It is worth noting that obesity is not only a cosmetic problem. This pathological condition significantly affects human health and increases the risk of developing such diseases as diabetes mellitus, high blood pressure (hypertension), obstructive sleep apnea and others.
The department's surgical range of services includes:
Open or laparoscopic cholecystectomy
Open or laparoscopic transabdominal preperitoneal inguinal hernia repair, total extraperitoneal hernia repair (inguinal hernia surgery)
Surgical interventions in incisional or ventral hernia (open and laparoscopic)
Surgery in gastroesophageal reflux and dysphagia (fundoplication, laparoscopic Heller myotomy)
Minimally invasive surgery in hemorrhoids, stapled hemorrhoidectomy
Open or laparoscopic appendectomy
Fistulectomy, ligation of intersphincteric fistula tract (LIFT)
Open or laparoscopic splenectomy, adrenalectomy
Surgery in benign and malignant liver diseases
Surgery in benign and malignant diseases of the small and large intestine (hemicolectomy, abdominoperineal excision of the rectum and anterior resection)
Surgery for cysts and tumors (lipoma, fibroma, atheroma, etc.)
Surgery for breast tumors (fibroadenoma, breast cancer)
Bariatric surgery

Laparoscopic gastric banding
Laparoscopic sleeve gastrectomy
Laparoscopic gastric bypass
Laparoscopic mini gastric bypass procedure

Other services
Curriculum vitae of Dr. med. Rajat Goel
Dr. med. Rajat Goel is highly qualified surgeon specializing in minimally invasive and bariatric surgery. He received his Bachelor of Medicine and Bachelor of Surgery at the prestigious Maulana Azad Medical College. He became Master of Surgery at the Lady Hardinge Medical College. In addition, he received special training in laparoscopic surgery in Taiwan, Singapore and the United States. Dr. Goel has 11 years of experience in general and laparoscopic surgery. Of particular interest to the doctor is bariatric surgery. He performed about 650 successful bariatric interventions. He also specializes in all aspects of open and laparoscopic general surgery, single-port surgery. The doctor is also actively engaged in research and has 19 international publications, more than 100 published annotations, 4 chapters in books.
Membership in Professional Societies
Delhi Medical Council (DMC).
Asia Pacific Hernia Society (APHS).
Society of Endoscopic and Laparoscopic Surgeons of India (SELSI).
Society of American Gastrointestinal and Endoscopic Surgeons (SAGES).
Endoscopic and Laparoscopic Surgeons of Asia (ELSA).
Association of Minimal Access Surgeons of India (AMASI).
Hernia Society of India (HSI).
International Medical Sciences Academy (IMSA).
World Association of Laparoscopic Surgeons (WALS).
Association of Colon and Rectal Surgeons of India (ACRSI).
Prizes and Honors
2002 Gold Medal of Dr. Vidya Rattan Sagar for the Best Work of the Final Year, prior to Bachelor in Medicine and Bachelor of Surgery.
February 2012 Award for the Best Work at the IAGES Conference.
2012 Award for the Best Work at the 6th Surgical Week AIIMS, ENDOSURG 2012.
Photo of the doctor: (c) Primus Hospital
Department of General Surgery.
Primus Super Speciality Hospital New Delhi:

Request more information now.
We will be happy to answer all your questions.
---