Primus Super Speciality Hospital New Delhi
Department of Diagnostic and Interventional Radiology (

594442

)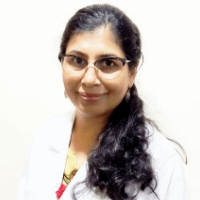 Dr. med.
Sanyukta Phukan Banerjee
Specialized in: diagnostic and interventional radiology
About the department
The Department of Diagnostic and Interventional Radiology at the Primus Super Speciality Hospital New Delhi offers the full range of modern diagnostics and minimally invasive imaging-guided therapy. The department has the cutting-edge medical equipment, which, in combination with the high professionalism of doctors, forms a solid base for the provision of high-quality medical services. In addition, the specialists cooperate closely with related departments and provide imaging examinations in various diseases. The department is headed by Dr. med. Sanyukta Phukan Banerjee.
The department's range of medical services includes:
Diagnostic radiology

Imaging examinations of the nervous system
Computed tomography
Magnetic resonance imaging
Ultrasound scans
Digital mammography
Musculoskeletal X-rays
Imaging examinations of the head and neck
General diagnostic radiology

Interventional radiology

Vascular interventions

Screening in peripheral vascular diseases
Angiography and angioplasty (carotid, renal, iliac, subclavian, mesenteric, popliteal arteries)
Venous angioplasty and stent implantation
Minimally invasive hemostasis of life-threatening haemorrhages from the gastrointestinal tract, genitourinary tract, respiratory tract
Thrombolytic therapy in thromboses
Formation of access for chemotherapy
Preoperative embolization of vascular tumors (reduces blood loss during surgery)
Embolization of arteriovenous malformations
Laser and radiofrequency ablation in varicose veins
Stent implantation in aortic aneurysm
Endovascular treatment of post-traumatic pseudoaneurysm
Transjugular intrahepatic portosystemic shuningt
Uterine fibroid embolization
Implantation of cava filter in the vena cava inferior
Aneurysm coiling

Minimally invasive interventions

Ultrasound and CT-guided fine needle aspiration biopsy (including biopsy of the kidneys, breast, liver, bones and tumors of other locations)
Percutaneous transhepatic cholangiostomy
Bile duct stent implantation
Percutaneous nephrostomy
Percutaneous abscess drainage
Fallopian tube recanalization
Vertebroplasty
Radiofrequency ablation of tumors
Intraoperative ultrasound examination for the removal of nonpalpable breast tumors
Mammography, including digital examination
Ultrasound-guided fine-needle aspiration biopsy followed by cytological examination
Stereotactic breast biopsy
Ultrasound-guided cyst aspiration
Galactography

Other diagnostic and therapeutic services
Curriculum vitae
Dr. med. Sanyukta Phukan Banerjee heads the Department of Diagnostic and Interventional Radiology at the Primus Super Speciality Hospital New Delhi. She has over 18 years of experience in the areas of her specialization. From 1989 to 1994, she studied Medicine, after which she received Bachelor of Medicine and Bachelor of Surgery at the Gauhati Medical College, Gauhati University. She completed postgraduate training in the field of diagnostic and interventional radiology at the Army Hospital Research and Referral at the University of Delhi (1996-1999).
Special Clinical Interests
Imaging of the musculoskeletal system.
Imaging of the thoracic organs.
Imaging of the genitourinary ducts.
Neuroimaging.
Imaging of the gastrointestinal tract.
Imaging of the female reproductive organs.
Neuroradiology.
CT and MRI examinations.
Ultrasound diagnostics.
Digital mammography.
Musculoskeletal X-rays.
Imaging of the head and neck.
General diagnostic radiology.
Photo of the doctor: (c) Primus Hospital
Department of Diagnostic and Interventional Radiology.
Primus Super Speciality Hospital New Delhi:

Request more information now.
We will be happy to answer all your questions.
---