Samitivej Hospital Bangkok
Department of Dermatology (

302945

)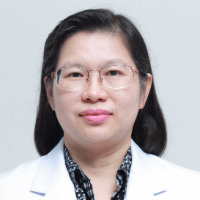 Prof. Dr. med.
Siriwan Wananukul
Specialized in: dermatology
About the Department of Dermatology at Samitivej Hospital Bangkok
The Department of Dermatology at the Samitivej Hospital Bangkok specializes in providing comprehensive medical services to patients with diseases of the skin and its appendages. The department provides therapy for dermatological diseases, including infections, hair loss, fungal infections of the nails and acne. The highly qualified doctors of the department have tremendous experience of work with various skin types and clinical cases of varying severity, so they provide optimal medical care using medical innovations. The Chief Physician of the department is Prof. Dr. med. Siriwan Wananukul.
In addition to treating inflammatory and allergic skin pathologies, the department's doctors also have outstanding qualifications in the treatment of hair problems. The department includes a modern specialized Center for Hair Restoration. With blood tests and hormonal tests, LED therapy and surgical hair transplantation, the department's doctors develop individual treatment programs for each patient.
The main department's activities in the field of dermatology include:
Diagnostics and treatment of all types of dermatological diseases
Allergy skin testing
Laser removal of moles, warts and skin neoplasms
Dermatohistological studies
Other medical services
The range of treatment methods for treating hair loss includes:
Diagnostics and identification of the causes of hair loss
Diagnostics of hair condition using the Bioscor system
Laser treatment programs using the Bioscor system
LED therapy using the Bioscor system
Robot-assisted hair transplant
Surgical hair transplant
General hair restoration and hair care
Other services
Curriculum vitae of Prof. Dr. med. Siriwan Wananukul
1984 Doctorate, Faculty of Medicine, Chulalongkorn University.
1990 Diploma of the Thai Board of Pediatrics.
1994 - 1995 Certificate Fellow in Dermatology, University of Minnesota, USA.
1996 Diplomate of the Thai Board of Dermatology.
2007 Diploma of the Thai Board of Pediatric Dermatology, Medical Council of Thailand.
Photo of the doctor: (c) Samitivej Hospital Bangkok
Department of Dermatology.
Samitivej Hospital Bangkok:

Request more information now.
We will be happy to answer all your questions.
---
Certificates