Samitivej Hospital Bangkok
Department of Oncology (

302953

)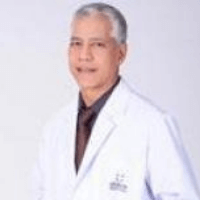 Dr. med.
Chantawat Sheanakul
About the Department of Oncology at Samitivej Hospital Bangkok
The Department of Oncology at the Samitivej Hospital Bangkok offers the accurate diagnostics and comprehensive treatment of various types of cancer according to the international medical standards. Particular attention is paid to the early detection of oncopathology through regular screening. The department is headed by the Dr. med. Chantawat Sheanakul.
The department provides many highly specialized treatment methods, including surgery, radioactive iodine treatment, radiation therapy, bone marrow transplantation and chemotherapy. The tasks of specialists also include the provision of palliative care for patients with advanced stages of cancer.
The department also offers rehabilitation programs, which help the patients to return to a normal way of life. The department also practices reconstructive surgery, which is especially relevant for breast restoration after its resection during cancer treatment.
A dedicated team of medical oncologists, radiologists, medical physicists, technicians and specially trained nurses makes every effort to completely cure the patients from cancer and overcome the psychological problems caused by such a diagnosis. Thanks to the exceptional experience of doctors, an interdisciplinary and individual approach to each clinical case and the use of the cutting-edge oncological equipment, the department has gained worldwide recognition for high-quality medical care.
The department's range of medical services includes:
Diagnostics

Roentgenography
Mammography
Ultrasound diagnostics
Computed tomography
Magnetic resonance imaging
Different types of biopsy
Laboratory tests

Therapy

Chemotherapy
Radiation therapy
Surgical treatment
Radioiodine I-131 therapy for thyroid cancer
Palliative care
Psychological care for patients and family members
Nutritional counseling
Support groups

Other diagnostic and therapeutic services
Curriculum vitae of Dr. med. Chantawat Sheanakul
Doctorate, Faculty of Medicine, Chiang Mai University.
Diploma of the Thai Board of Obstetrics and Gynecology.
Certificate in Gynecologic Oncology.
Diploma in Gynecologic Oncology, University of Graz, Australia.
Photo of the doctor: (c) Samitivej Hospital Bangkok
Department of Oncology.
Samitivej Hospital Bangkok:

Request more information now.
We will be happy to answer all your questions.
---
Certificates