Samitivej Hospital Bangkok
Department of Plastic and Aesthetic Surgery (

302954

)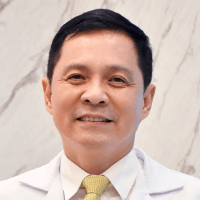 Dr. med.
Pichit Siriwan
Specialized in: plastic and aesthetic surgery
About the Department of Plastic and Aesthetic Surgery at Samitivej Hospital Bangkok
The Department of Plastic and Aesthetic Surgery at the Samitivej Hospital Bangkok offers the full range of modern aesthetic and reconstructive interventions. The clinical practice aims to improve the appearance of a person and improve the quality of his life.
The Chief Physician of the department is Dr. med. Pichit Siriwan. The doctor has been involved in plastic surgery for more than 20 years, so he has rich experience in this field. The plastic surgeon himself and many of his colleagues have prestigious certificates and rank among the top specialists in the country.
Breast augmentation, reduction, lift procedures, facelift procedures, body lift procedures and body contouring procedures, combined interventions to lift breast, abdomen and other problem areas are in special demand in the department. The department's plastic surgeons are distinguished by outstanding professionalism and skills, and therefore the department provides services not only to locals, but also to many patients from different parts of the world.
In the field of aesthetic surgery, the department offers corrective procedures for the treatment of varicose veins, elimination of moles, warts, uneven skin tone, acne. The department's doctors also treat patients with dry, itchy skin with eczema lesions.
It is worth noting that the department is considered one of the leaders in the field of facial cosmetic surgery in Southeast Asia. It successfully performs full facelift, neck lift, facelift in the middle third of the face, nose reshaping, eyelid surgery, etc. In addition to cosmetic procedures, the department also performs many reconstructive interventions.
The department's surgical service range includes:
Facial interventions

Rhinoplasty
Blepharoplasty
Chin augmentation
Rhytidectomy (face and neck lift)
Otoplasty
Lip size correction

Breast interventions

Breast augmentation
Breast reduction
Breast lift
Breast reconstruction
Breast reduction in men with gynecomastia

Body contouring

Different types of tummy tucks
Hip lift
Arm lift
Liposuction (classic and laser)

Other interventions

Interventions to correct wound consequences
Interventions to correct burn consequences
Scar revision
Excisional biopsy and removal of skin tumors
Reconstructive surgery for birth defects

Other surgical options
Curriculum vitae of Dr. med. Pichit Siriwan
1986 Doctorate, Faculty of Medicine, Chulalongkorn University.
1994 Diploma of the Thai Board of Plastic Surgery, Chulalongkorn Hospital.
2000 - 2002 Diploma in Biomedical Engineering, Leuven, Belgium.
Diploma in Plastic and Reconstructive Surgery.
Photo of the doctor: (c) Samitivej Hospital Bangkok
Department of Plastic and Aesthetic Surgery.
Samitivej Hospital Bangkok:

Request more information now.
We will be happy to answer all your questions.
---
Certificates