Samitivej Hospital Bangkok
Department of Gastroenterology and Hepatology (

302958

)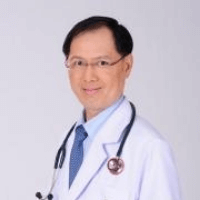 Dr. med.
Surasak Aekpongpaisit
Specialized in: gastroenterology, hepatology
About the Department of Gastroenterology and Hepatology at Samitivej Hospital Bangkok
The Department of Gastroenterology and Hepatology at the Samitivej Hospital Bangkok offers all the modern options for the diagnostics and treatment of diseases of the gastrointestinal tract and liver. The department has advanced endoscopic equipment and annually performs about 4,000 endoscopic procedures. The department's field of competence also includes liver transplantation, which is performed here with outstanding results. The Chief Physician of the department is Dr. med. Surasak Aekpongpaisit.
The department's medical team consists of 10 specialized doctors and 12 nurses. All of them work for the benefit of patients and make every effort to meet their needs and wishes. To provide medical services, the department has 12 examination rooms, 5 endoscopy rooms and 10 monitoring rooms.
The department uses state-of-the-art medical technology and innovation. In particular, the very latest narrow-band imaing technique is widely practiced here. This technology uses special green and blue wavelengths for the enhancement of imaging during gastrointestinal endoscopy.
The department specializes in the diagnostics and treatment of the following diseases:
Hepatitis A, B, C, E
Chronic and cholestatic liver diseases
Genetic liver diseases
Cirrhosis
Infectious liver lesions (for example, abscess)
Primary and secondary liver cancer
Gastroesophageal reflux disease
Gastric and duodenal ulcers
Chronic inflammatory bowel disease (for example, Crohn's disease, ulcerative colitis)
Acute and chronic diarrhea or constipation
Bleeding in the upper and lower gastrointestinal tract
Hemorrhoids and anorectal lesions
Functional gastrointestinal disorders (for example, irritable bowel syndrome, functional abdominal pain syndrome)
Gastrointestinal motility disorders (for example, cardiac achalasia)
Chronic and acute pancreatitis
Gallstones and choledocholithiasis (gallstone disease)
All types of cancer of the stomach, colon/small intestine, esophagus, pancreas and gallbladder
Other pathologies
The diagnostic and therapeutic options of the department include:
Endoscopic procedures

Gastroscopy
Colonoscopy
Enteroscopy
Endoscopic ultrasonography
Endoscopic mucosal and submucosal resection
Endoscopic retrograde cholangiopancreatography

Gastrointestinal manometry
Anorectal manometry
Biofeedback therapy based on anorectal manometry
Gastrointestinal capsule endoscopy
Liver biopsy
Treatment methods for diseases of the liver and digestive organs using minimally invasive techniques (without a surgical intervention)

Percutaneous ethanol injections (for cancer treatment)
Transcatheter oily chemoembolization (a type of chemotherapy, in which chemotherapy drugs are injected directly into the tumors through the hepatic artery)
Transarterial embolization (for the prevention of acute haemorrhage in the liver and other areas of the digestive system)
Radiofrequency ablation (for liver cancer)

Other diagnostic and treatment methods
Curriculum vitae of Dr. med. Surasak Aekpongpaisit
1994 Doctorate, Faculty of Medicine, Chulalongkorn University.
2001 Diploma of the Thai Board of Internal Medicine, Medical Council of Thailand.
2003 Diploma of the Thai Board of Gastroenterology.
Clinical Interests
Non-alcoholic fatty liver disease.
Cirrhosis.
Hepatobiliary diseases.
Colorectal diseases.
Hemorrhoid.
Gastroesophageal reflux disease.
Colonoscopy.
Endoscopy.
Constipation.
Photo of the doctor: (c) Samitivej Hospital Bangkok
Department of Gastroenterology and Hepatology.
Samitivej Hospital Bangkok:

Request more information now.
We will be happy to answer all your questions.
---
Certificates