Samitivej Hospital Bangkok
Department of Gynecology and Obstetrics (

302959

)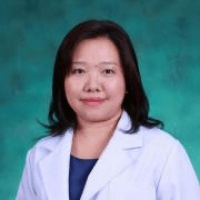 Dr. med.
Najnapa Wachiratarapadorn
Specialized in: gynecology, obstetrics
About the Department of Gynecology and Obstetrics at Samitivej Hospital Bangkok
The Department of Gynecology and Obstetrics at the Samitivej Hospital Bangkok offers the accurate diagnostics and modern treatment of all diseases of the female reproductive system, including the treatment of infertility, urinary stress incontinence and pelvic prolapse. The department's doctors treat patients of all age groups with respect and attention, including adolescents during puberty, women during pregnancy and menopause. The advanced infrastructure of the department and the high professionalism of doctors form a solid foundation for top-class medical care. The department is headed by Dr. med. Najnapa Wachiratarapadorn.
The department provides individual consultations on childbirth planning. When monitoring pregnancy, the department's obstetricians select the most appropriate childbirth option – natural birth or C-section. The delivery rooms are equipped with everything necessary for safe childbirth, including baths for water birth. If necessary, various anesthesia techniques can be used.
The team of the department's doctors provides medical care in accordance with the highest international standards, has long experience and professional commitment to medical care of women. The high quality of service is confirmed by the "Baby-Friendly Hospital" insignia of the UNICEF. The department annually diagnoses and treats thousands of patients from Thailand and many other countries of the world, which testifies to the prestige and the high credit of confidence among patients.
The department's range of medical services includes:
Gynecology

Diagnostics and treatment of common gynecological diseases (for example, infectious processes)
Diagnostics and treatment of cancers of the female reproductive tract (for example, uterine, cervical, ovarian, vulvar cancers, etc.)
Hysteroscopy and minimally invasive surgery
Pelvic floor reconstruction
Diagnostics and treatment of urogynecological problems (for example, urinary stress incontinence, pelvic prolapse)
Diagnostics and treatment of infertility in women

Obstetrics

Integrated management of pregnancy
Childbirth (natural birth, С-section, water birth)
Postnatal care for mother and baby

Other medical services
Curriculum vitae of Dr. med. Najnapa Wachiratarapadorn
2000 Doctorate, Faculty of Medicine, Ramathibodi Hospital, Mahidol University.
2006 Diploma of the Thai Board of Obstetrics and Gynecology, Faculty of Medicine, King Chulalongkorn Memorial Hospital, Chulalongkorn University.
2013 Diploma of the Thai Subspecialty Board of Fetal Medicine, Faculty of Medicine, Rajavithi Hospital, Rangsit University.
Photo of the doctor: (c) Samitivej Hospital Bangkok
Department of Gynecology and Obstetrics.
Samitivej Hospital Bangkok:

Request more information now.
We will be happy to answer all your questions.
---
Certificates