Samitivej Hospital Bangkok
Department of Pediatric Hearing Disorders (

302961

)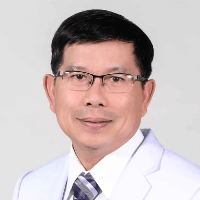 Dr. med.
Greetha Moungthong
Specialized in: pediatric hearing disorders
About the department
The Department of Pediatric Hearing Disorders at the Samitivej Hospital Bangkok specializes in the diagnostics, treatment and restoration of hearing and speech. Children of all age groups (from infants to school-age children) are offered hearing testing using otoacoustic emission and/or SLAEP technique. The department's doctors have in their arsenal various effective treatment methods, which are selected individually for each young patient. The Chief Physician of the department is Dr. med. Greetha Moungthong.
Depending on the clinical case, the department's specialists use hearing aids or cochlear implants for the treatment of hearing loss. The department's medical service range also includes follow-up monitoring of patients with hearing aids in order to adapt the hearing aid to suit the needs of a particular patient. Thus, the team of highly qualified department's doctors makes every effort to provide patients with the best diagnostics, treatment and follow-up monitoring.
The department's clinical focuses include:
Hearing screening for infants and school-age children using otoacoustic emission and/or SLAEP technique
Hearing screening in children between the ages of six months and three years using visually reinforcement audiometry
Hearing screening in children older than three years using pure tone audiometry
Hearing screening in children using auditory evoked potential testing (for example, in children with autism or other mental problems)
Hearing acuity testing in children using auditory steady state response
Inner ear function testing using electrocochleography
Middle ear function testing using tympanometry
Selection of the right hearing aids for children and adults
Cochlear implantation
Follow-up monitoring of patients after the placement of hearing aids, including their adaptation to the specific needs of the patient
Training of patients on the proper use of hearing aids
Testing of the auditory evoked potentials of the brain stem in patients with neurological or balance disorders
Surgical treatment of hearing problems
Other medical services
Curriculum vitae
1982 Faculty of Medicine, Khon Kaen University.
1988 Diploma of the Thai Board of Otolaryngology, Phramongkutklao Hospital, Thailand.
1995 - 1996 Certificate Research Fellowship in Pediatric Otolaryngology, Children's Memorial Hospital, Chicago, Illinois, USA.
Photo of the doctor: (c) Samitivej Hospital Bangkok
Department of Pediatric Hearing Disorders.
Samitivej Hospital Bangkok:

Request more information now.
We will be happy to answer all your questions.
---
Certificates