Samitivej Hospital Bangkok
Department of Pediatric Ophthalmology (

302968

)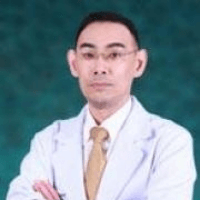 Dr. med.
Pokpong Chantarasomboon
Specialized in: pediatric ophthalmology
About the Department of Pediatric Ophthalmology at Samitivej Hospital Bangkok
The Department of Pediatric Ophthalmology at the Samitivej Hospital Bangkok offers the full range of highly accurate diagnostic tests for the detection of eye diseases in children, as well as their effective treatment. Particular attention is paid to the treatment of hyperopia and myopia in children. In addition, the team of pediatric ophthalmologists with extensive experience in the diagnostics and treatment of childhood eye diseases regularly carries out general eyesight examinations, visual acuity testing and retinal testing. To this end, the department has in its arsenal all the innovative medical technologies. The department is headed by Dr. med. Pokpong Chantarasomboon.
The priority tasks of the department's ophthalmologists include general eyesight testing in children, eyesight testing in premature infants, a visual acuity test for the selection of glasses, ans well as the treatment of strabismus and amblyopia.
The department's range of medical services includes:
Eyesight testing in children using autorefractor, autoprojector
Indirect ophthalmoscopy, the use of ophthalmic aspherical lenses
Biomicroscopic analysis of the visible parts of the eye using a slit lamp
Applanation tonometry
Keratometry
Eye ultrasound scanning (A-scanning)
Diagnostics of color blindness
Retinoscopy
Testing using fundus camera for the imaging of retinal blood vessels after the introduction of a coloring substance
Nd:YAG laser therapy for glaucoma and clouding of the lens capsule after cataract surgery
Visual field testing
Other diagnostic and therapeutic options
Photo of the doctor: (c) Samitivej Hospital Bangkok
Department of Pediatric Ophthalmology.
Samitivej Hospital Bangkok:

Request more information now.
We will be happy to answer all your questions.
---
Certificates