Department of Orthopedics, Trauma Surgery and Foot Surgery (

303011

)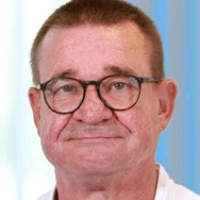 Dr. med.
Hans Bayer-Helms
Specialized in: orthopedics, trauma surgery, foot surgery
About the department
The Department of Orthopedics, Trauma Surgery and Foot Surgery at the St. Josef Hospital Haan offers the full range of conservative and surgical treatment of various diseases, injuries of the musculoskeletal system. An important focus of the department's work also includes interventions to correct foot deformities. The treatment is carried out both on an inpatient and outpatient basis. Thanks to innovative equipment for minimally invasive surgery, even extensive operations can be performed without obligatory hospitalization. The department is headed by Dr. med. Hans Bayer-Helms.
Arthroscopic interventions are widely performed in the department for the treatment of lesions of the knee, hip, shoulder, elbow and ankle joints. During such an operation, the surgeon makes a small incision, through which the endoscope is inserted for the examination or treatment of the joint pathological changes. The main advantage of such interventions is their minimal invasiveness, which allows the patients to recover as quickly as possible after the treatment. Arthroscopic surgery is also often performed to transplant cartilage tissue, during which the defects of the cartilage lining are compensated by autologous stem cells.
In addition, the department's surgeons specialize in joint-preserving operations on the knee, hip, shoulder and ankle joints. While planning therapy, the doctors set themselves the goal of maximally preserving the affected joint, eliminating discomfort and restoring or improving joint function. The department uses various treatment options, which are selected for each patient individually.
The department offers all correction techniques for congenital and acquired foot malformations. These include interventions for the correction of toe deformities (for example, hallux valgus, claw fingers), osteosynthesis by Albee-Delbet, corrective surgery of the flat-valgus foot, treatment of ankle osteoarthritis, treatment of injuries and diseases of the Achilles tendon, etc.
The department's range of medical services includes:
Arthroscopic surgery

Knee interventions

Meniscus tear
Cruciate ligament injury
Cartilaginous tissue damage
Patella instability

Shoulder interventions

Impingement syndrome
Shoulder dislocation
Shoulder arthrosis

Hip interventions

Impingement syndrome
Articular lip fracture
Cartilage tissue lesions

Upper ankle interventions

Arthrosis
Osteochondritis dissecans

Elbow interventions

Arthrosis
Ligament injuries

Joint-preserving knee, hip, shoulder and ankle surgery, including correction of the axis of the lower limbs
Cartilage transplantation
Foot and ankle surgery (congenital and acquired toe defects, foot and upper ankle arthrosis, corrective interventions in flat-valgus foot deformity)
Treatment of injuries of varying severity (bone fractures, tendon and muscle ruptures)
Treatment of the consequences of injuries (reconstruction of tendons and ligaments, for example, in the case of damage to the Achilles tendon and cruciate ligament)
Conservative and surgical treatment of spinal injuries

Vertebroplasty
Kyphoplasty
Radiofrequency facet denervation

Other medical services
Photo of the doctor: (c) St. Josef Krankenhaus Haan
Department of Orthopedics, Trauma Surgery and Foot Surgery.
St. Joseph Hospital Haan:

Request more information now.
We will be happy to answer all your questions.
---
Certificates