Wish Clinic and Beauty Istanbul
Department of Plastic Surgery, Aesthetic Medicine and Hair Transplantation (

616070

)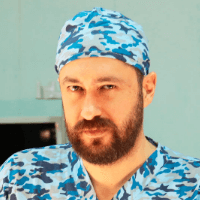 Dr. med.
Onur Sumer
Specialized in: plastic surgery, aesthetic medicine and hair transplantation
About the Department of Plastic Surgery, Aesthetic Medicine and Hair Transplantation at Wish Clinic and Beauty Istanbul
The Department of Plastic Surgery, Aesthetic Medicine and Hair Transplantation at the Wish Clinic & Beauty Istanbul offers the full range of services in the areas of its specialization. The department's specialists perform both reconstructive and aesthetic interventions. The department eliminates the consequences of injuries and invasive treatment of oncological diseases, carries out the correction of birth defects, hair transplantation on the head, beard, mustache and eyebrow, as well as face and body correction. In addition to surgical operations, the department's service range includes rejuvenating procedures, which are aimed at the restoration of skin elasticity and health improvement. The department strictly adheres to all modern safety and sterility standards, while the medical personnel regularly undergo advanced training courses in order to apply the most modern techniques in their practice. The department is headed by Dr. med. Onur Sumer.
The department performs a comprehensive Mommy Makeover program, which includes full body restoration after childbirth. Thanks to this innovative approach, the department's specialists simultaneously perform abdominoplasty, breast lift and augmentation, face, neck and hand skin lift, intimate plastic surgery, liposuction, as well as breast reduction and reshaping.
The department also uses the innovative FUE hair transplantation technique, which is in demand among men and women. Many patients want to prevent or stop hair loss caused by age-related changes, severe diseases and the consequences of their treatment, as well as to eliminate the results of injuries, burns and hormonal disorders, which can cause alopecia. In addition to clinical indications, many patients want to improve their appearance by the eyebrow, mustache and beard hair transplantation. The FUE technique allows the doctor to effectively restore the natural density of the hair and does not leave any scars on the skin. For maximum patient comfort, hair transplantation is performed under anesthesia. The final result can be assessed 12 months after the procedure. The transplanted hair does not fall out and continues to grow throughout life.
Thanks to the high professionalism of the medical staff and modern equipment, which allows the specialist to carry out body correction in men and women, the department has won an excellent reputation not only in Turkey, but also among patients from various countries of the world. Upon treatment completion, the patient receives recommendations for body and hair care, adhering to which, he will certainly maintain the achieved result for many years.
The department's range of surgical service includes:
Aesthetic plastic surgery

Facial interventions

Nose reshaping
Ear reshaping
Face and neck lift
Blepharoplasty
Cheekbone reduction surgery

Body interventions

Gynecomastia treatment in men
Abdominoplasty (tummy tuck)
Thigh lift
Brazilian butt lift
Hand lift
Liposuction
Ultrasonic liposuction
Breast augmentation
Breast reduction
Breast lift
Relief formation in men

Reconstructive plastic surgery

Breast reconstruction
Intimate plastic surgery

Hair transplantation

FUE hair transplantation
Beard and mustache transplantation
Eyebrow transplantation

Aesthetic medicine

Filler injections to augment lips, cheeks, chin, etc.
Cosmetic facial procedure using the innovative Hydrafacial MD Power technique
Hardware mesotherapy
Fractional radiofrequency microneedling

Treatment of wrinkles
Skin rejuvenation and protection
Scar revision
Acne treatment

Powershape procedure

Reduced postoperative edema
Stimulation of blood circulation
Removal of subcutaneous fat deposits

Laser removal of unwanted hair

Other medical services
Curriculum vitae of Dr. med. Onur Sumer
1998 - 2004 University of Istanbul, Cerrahpaşa Faculty of Medicine (Bachelor's Degree).
2005 - 2011 Sisli Hamidiye Etfal Health Practice and Research Center (Master's Degree).
Professional Career
2010 Postgraduate Student, Faculty of Plastic Surgery, Ghent University in Belgium.
2012 - 2013 Practice in Plastic and Aesthetic Surgery, Trabzon Kanuni Training and Research Hospital.
Since 2015 Plastic Surgeon and Head of the Department of Plastic Surgery, Aesthetic Medicine and Hair Transplantation at the Wish Clinic & Beauty Istanbul.
Photo of the doctor: (с) Wish Clinic & Beauty
Department of Plastic Surgery, Aesthetic Medicine and Hair Transplantation.
Wish Clinic and Beauty Istanbul:

Request more information now.
We will be happy to answer all your questions.
---
Certificates