Childrens Hospital Nuremberg
Department of Pediatric Orthopedics (

420071

)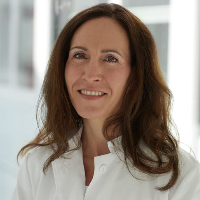 Dr. med.
Kerstin Remmel
Specialized in: pediatric orthopedics
About the Department of Pediatric Orthopedics at Childrens Hospital Nuremberg
The Department of Pediatric Orthopedics at the Children's Hospital Nuremberg offers all the possibilities of modern medicine in the area of its specialization. The department's doctors provide comprehensive diagnostics and treatment of congenital and acquired musculoskeletal diseases in children. The medical facility has gained vast experience in the correction of spinal curvature in young patients. Surgical removal of benign skeletal neoplasms is successfully performed here. The department has state-of-the-art diagnostic rooms. Advanced diagnostic equipment allows doctors to assess the condition of the child's musculoskeletal system with minimal radiation exposure. During the elaboration of a treatment regimen, the specialists take into account the age of the child and the specifics of the orthopedic disease because it is important not only to achieve a therapeutic result but also to ensure the child's normal development and growth in the future. Only modern and reliable treatment methods are used in the department. In many cases, patients can receive medical care at specialized outpatient clinics. The team of pediatric orthopedists diagnoses and treats more than 3,000 young patients every year, thanks to which the department is known as the largest and most reputable medical facility in Nuremberg. The Head Physician of the department is Dr. med. Kerstin Remmel.
The department regularly provides medical care to children with foot deformities, the most common of which are clubfoot and planovalgus deformities. Clubfoot can be a congenital problem or it can occur due to neurological pathologies. In patients with this deformity, the inner edge of the sole is turned upward and excessively inward, and the toes are deviated inward, which results in motor restrictions and gait abnormalities in the child. If left untreated, clubfoot may lead to severe foot displacement and lower limb dysfunction. A clinical examination and an ultrasound scan are usually sufficient to make a diagnosis. As for the treatment, the most commonly used therapeutic approach is the Ponseti method (correction with plaster cast) with a subsequent achillotomy for Achilles tendon lengthening.
The department's specialists also have excellent professional skills in the treatment of planovalgus deformity, which may develop when a child begins to walk. During the diagnostics, doctors perform a thorough clinical examination and do 3D X-rays. A first-line treatment involves therapeutic exercises, and in complex cases with severe symptoms, surgical intervention may be considered.
An important focus of the department's clinical practice is the treatment of scoliosis (spinal curvature). Many people believe that scoliosis is only an aesthetic problem, but the spinal curvature causes pain, and internal organs may change their position due to compression, which negatively affects their function. During the diagnostic process, the department's doctors carry out a clinical examination and X-ray tests to determine the degree and nature of curvature. The treatment may include the Schroth method (an intensive course of physiotherapy), wearing a special corset, and surgical intervention, but, fortunately, invasive treatment is rarely required. Children are also provided with psychological support if necessary.
The department's specialists also treat thoracic kyphosis. Therapy is most often based on performing a special set of exercises to strengthen the stabilizer muscles of the back. Second-line therapy includes wearing a corset, and in cases of severe curvatures, special plaster casts are applied to the thoracic spine.
The medical facility employs highly qualified doctors specializing in the treatment of children with neuro-orthopedic pathologies. They treat young patients with cerebral palsy, myelomeningocele, Duchenne muscular dystrophy, arthrogryposis multiplex congenita, and hereditary motor sensory neuropathy. During the therapeutic process, doctors widely use physiotherapy, occupational therapy, and wearing orthoses. In cases of rapid progression of the pathological process, the specialists may perform surgical interventions on the joints or spine, depending on the specific diagnosis. The efforts of the specialists are focused on preserving and improving motor function as much as possible. It is important for the doctors that children can move without the help of another person and have a high quality of life.
The department's range of medical services includes:
Diagnostics and treatment of foot diseases and deformities

Clubfoot
Planovalgus deformity

Diagnostics and treatment of congenital and acquired lower limb deformities.

X- and O-shaped lower limb deformities
Leg length discrepancy
Fibular aplasia
Tibial pseudarthrosis

Diagnostics and treatment of spinal curvatures

Scoliosis
Thoracic kyphosis

Diagnostics and treatment of hip diseases

Hip dysplasia
Hip arthritis (coxitis)
Perthes disease
Slipped capital femoral epiphysis

Diagnostics and treatment of knee diseases

Anterior cruciate ligament injuries
Meniscus tear
Articular cartilage injuries
Osteochondritis dissecans
Patellar dislocation

Diagnostics and treatment of juvenile idiopathic arthritis
Diagnostics and treatment of chronic musculoskeletal pain
Diagnostics and treatment of benign bone tumors
Diagnostics and treatment of neuro-orthopedic diseases

Cerebral palsy
Myelomeningocele
Duchenne muscular dystrophy
Arthrogryposis multiplex congenita
Hereditary motor sensory neuropathy

Diagnostics and treatment of other orthopedic diseases in children
Photo of the doctor: (c) Klinik Hallerwiese-Cnopfsche Kinderklinik
Department of Pediatric Orthopedics.
Childrens Hospital Nuremberg:

Request more information now.
We will be happy to answer all your questions.
---