Academic Childrens Hospital Nuremberg
Department of Pediatric Orthopedic Surgery (

420071

)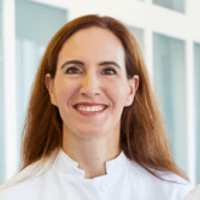 Dr. med.
Kerstin Remmel
Specialized in: pediatric orthopedic surgery
About the Department of Pediatric Orthopedic Surgery at Academic Childrens Hospital Nuremberg
The Department of Pediatric Orthopedic Surgery at the Academic Childrens Hospital Nuremberg offers the full range of diagnostic and therapeutic services in this field. The specialization of the department covers the treatment of diseases and injuries of the musculoskeletal system in childhood and adolescence, with a special role being given to controlling the growth and proper development of the child's body. The state-of-the-art technical equipment and exceptional professionalism of doctors allow them to cope even with the most complex clinical cases. The department is headed by Dr. med. Kerstin Remmel.
Of particular interest to the department's medical team is the conservative and surgical treatment of hip diseases, as well as the developmental deformities of the legs, hands and feet of any severity.
Another important focus is the timely detection and treatment of spinal diseases. With appropriate indications, doctors try to eliminate the problem with the help of conservative methods, but in the absence of positive dynamics they perform the necessary surgical intervention. When performing spinal surgery, sparing surgical techniques, modern navigation systems are used.
The service range of the department includes the diagnosis and treatment of the following pathologies:
Diseases of the head, neck and thorax

Torticollis
Skull asymmetry
Thoracic asymmetry (for example, keeled chest)
Other diseases

Congenital and post-traumatic deformities of arms, hands, fingers, legs, feet and spine
Spinal diseases

Spina bifida
Inflammatory diseases of the spine
Spondylolysis
Spondylolisthesis
Spinal malformations
Other diseases

Hip diseases

Hip dislocation
Purulent hip inflammation (one of the few urgent conditions in the field of pediatric orthopedics)
Hip dysplasia
Pathological changes in the femoral head
Perthes disease (circulatory disorders (ischemia) and death (necrosis) of bone tissue in the head of the femur)
Other pathologies

Knee diseases and injuries

Chondromalacia patellae (cartilage damage on the posterior surface of the knee cap)
Diseases affecting the surface of the knee joint (for example, osteochondritis dissecans)
Patella dislocation
Meniscus injuries
Painful irritation of the patellar tendon (Osgood-Schlatter disease)
Pain in the anterior part of the patella
Other diseases

Systemic diseases

Impaired axial skeleton in the pathology of bone metabolism (for example, phosphate diabetes)
Congenital joint stiffness (arthrogryposis)
Rheumatism
Cerebral palsy
Other systemic pathologies

Benign and malignant bone tissue tumors

Aneurysmal bone cysts
Fibrous dysplasia
Joint exostosis
Juvenile bone cysts
Non-ossifying fibroma
Other diseases
Photo of the doctor: (c) Klinik Hallerwiese-Cnopfsche Kinderklinik
Department of Pediatric Orthopedic Surgery.
Academic Childrens Hospital Nuremberg:

Request more information now.
We will be happy to answer all your questions.
---