Childrens Hospital Nuremberg
Department of Neonatology and Pediatric Intensive Care (

420077

)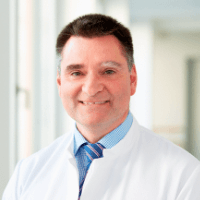 Prof. Dr. med.
Michael Schroth
Specialized in: neonatology, pediatric intensive care
About the Department of Neonatology and Pediatric Intensive Care at Childrens Hospital Nuremberg
The Department of Neonatology and Pediatric Intensive Care at the Children's Hospital Nuremberg offers the full range of services in these fields. The department is the level I Perinatal Center, in which future mothers are provided with first-class medical care before, during and after childbirth. In addition, the department has a modern intensive care unit for babies with 28 beds. The department delivers more than 3,000 babies every year. The department is headed by Prof. Dr. med. Michael Schroth – an outstanding specialist who, according to the FOCUS magazine rating, was included in the list of top doctors of Germany in 2018.
It should be noted that the family atmosphere prevails in the department. Care of the mother and child, treatment of newborns are provided in accordance with international protocols and the requirements of modern neonatology. The medical team of the department does everything possible to ensure maximum safety and optimal conditions for women and newborns.
The service range of the department includes:
Elimination of risks and treatment of diseases occurring in the neonatal period (from birth to the completion of the 28th day of life)
Care for extremely premature newborns (children weighing at birth below 1000 g or born before the 29th week of pregnancy)
Intensive medical therapy for premature infants and newborns in critical condition, including the use of all modern respiratory procedures
Intensive medical therapy for seriously ill children
Bonding (when mother and child become a single whole)
Consultations for parents on child care
Care for expectant mothers before, during and after pregnancy
Anesthesia during childbirth
Other services
Photo of the doctor: (c) Klinik Hallerwiese-Cnopfsche Kinderklinik
Department of Neonatology and Pediatric Intensive Care.
Childrens Hospital Nuremberg:

Request more information now.
We will be happy to answer all your questions.
---