Childrens Hospital Nuremberg
Department of Pediatric Diabetology (

443501

)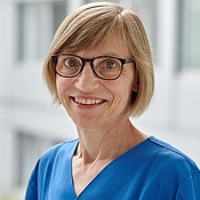 Dr. med.
Dorothea Linsenmeyer
Specialized in: pediatric diabetology
About the Department of Pediatric Diabetology at Childrens Hospital Nuremberg
The Department of Pediatric Diabetology at the Children's Hospital Nuremberg offers the full range of medical services in the area of its competence and specializes in the treatment of all types of diabetes mellitus in children. The department has gained vast experience in consultation, diagnostics, and treatment of type 1 and 2 diabetes mellitus, as well as MODY diabetes. Diabetes mellitus is an incurable disease, but adhering to doctors' recommendations and properly selecting treatment can ensure compensation for the pathology and provide patients with a full life. Upon confirmation of the diagnosis of diabetes mellitus, it is important to follow the diet. One should exclude sweets, packet juices, sweet carbonated drinks, dairy products with added sugar, fatty meats, mayonnaise, ketchup, etc. Regular physical exercises and walks in the fresh air also play an important role. In most cases, insulin therapy is necessary to compensate for diabetes mellitus. The department's doctors widely use insulin pump therapy. The medical facility regularly holds special group and individual sessions that allow parents and children to learn the necessary information about the disease and its treatment methods. The department's medical team makes every effort to provide each child with highly effective treatment and a decent quality of life without restrictions. The Head Physician of the department is Dr. med. Dorothea Linsenmeyer.
Diabetes mellitus is a chronic disease that impairs metabolism (mainly carbohydrate metabolism) in children. Diabetes mellitus develops due to insufficient insulin production in the pancreas or the insensitivity of tissues to this hormone. The disease is often characterized by a complex course in childhood and frequently leads to a rapid deterioration of the child's health.
The department's specialists admit young patients with types 1 and 2 diabetes mellitus, MODY, and other rare forms of the disease. Children are most often diagnosed with type 1 diabetes mellitus, which causes a decrease in insulin production due to lesions of the pancreatic beta cells. Type 2 diabetes mellitus, which causes a relative insulin deficiency due to insulin resistance, and MODY are quite rare in children. The main symptoms include thirst, dry mouth, weight loss, constant hunger, excessive urination, and increased fatigue.
To confirm the diagnosis, the department's doctors study the child's medical history and collect information about their complaints, after which they carry out a number of laboratory and instrumental tests, including blood glucose tests, tests for specific antibodies to pancreatic cells, Zinc cotransporter 8, insulin, and glutamate decarboxylase, as well as urine tests for glucose and microalbumin, and abdominal ultrasound. The child is also examined by specialists from related disciplines, such as ophthalmologists, neurologists, and surgeons.
The treatment tactics for diabetes mellitus depend on the type of disease. Insulin therapy is prescribed for type 1 diabetes mellitus, which is the most common one among children. Previously, insulin replacement therapy required regular subcutaneous injections, but now insulin is often administered with an insulin pump. This is a special small device that can be carried in a pocket or hidden under clothing. A thin catheter is inserted under the skin, through which insulin enters the bloodstream completely painlessly. The work of the insulin pump is regulated by a special program that accurately calculates the individual dose of insulin, taking into account the needs of the child. Insulin replacement therapy is complemented by a specific diet.
Insulin therapy is ineffective for type 2 diabetes mellitus and MODY because insulin production is not impaired. The problem is that the tissues lose sensitivity to insulin. In this case, lifestyle modifications with a strict diet come to the fore. Weight normalization, the exclusion of sweets and other high-carbohydrate foods from the diet, and maintaining an active lifestyle are necessary to compensate for type 2 diabetes mellitus. In some cases, a young patient may be prescribed oral hypoglycemic drugs. Insulin injections can also be included in the treatment regimen, but the need for their use arises very rarely.
The confirmation of diabetes mellitus in a child is often a significant shock for both the young patient and their parents. The department therefore employs experienced psychologists who hold individual sessions and use proven approaches to prepare the child and their parents for long-term treatment and acceptance of the diagnosis.
The department specializes in the diagnostics and treatment of the following types of diabetes mellitus:
Type 1 diabetes mellitus
Type 2 diabetes mellitus
MODY diabetes
Other types of diabetes mellitus in children
The department's therapeutic options include:
Insulin therapy, including pump insulin therapy
Drug therapy with with oral hypoglycemic agents
Diet therapy
Other treatment methods
Photo of the doctor: (c) Klinik Hallerwiese-Cnopfsche Kinderklinik
Department of Pediatric Diabetology.
Childrens Hospital Nuremberg:

Request more information now.
We will be happy to answer all your questions.
---