Academic Childrens Hospital Nuremberg
Department of Pediatric Diabetology (

443501

)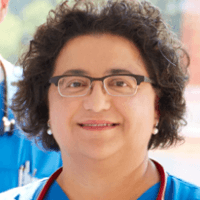 Dr. med.
Ingrid Brünstler
Specialized in: pediatric diabetology
About the Department of Pediatric Diabetology at Academic Childrens Hospital Nuremberg
The Department of Pediatric Diabetology at the Academic Childrens Hospital Nuremberg offers the full range of services in this field of medicine and specializes in the treatment of type 1 diabetes mellitus in children and adolescents. The Chief Physician of the department is Dr. med. Ingrid Brünstler.
One of the most important activities is the education of parents and the child for a new way of life with the disease. Classes are held in groups and are more focused on parents. All the necessary specialists participate in the training: doctors, diabetologists, consultants, educators, nutritionists, pediatric psychiatrists, social workers, psychologists, and specialists in care. In addition, there is the possibility of individual classes, but for this one need to agree the schedule of classes in advance.
The main topics of the classes:
What is type 1 diabetes mellitus?
Differences between type 1 and type 2 diabetes mellitus
Sugar levels measurement
Insulin therapy and insulin action
Diabetes mellitus and sports
Diabetes mellitus and special life situations
Normal blood sugar levels
Low blood sugar levels
Possible complications of the disease
Other topics
The department creates all the necessary conditions for the exchange of experiences between children and their parents, provides comprehensive counseling and social support. The doctors of the department set a goal to provide proper therapy, teach the child and his family to live with a new diagnosis, individually adapt the scheme of insulin therapy to various life situations (dose adjustment).
Photo of the doctor: (c) Klinik Hallerwiese-Cnopfsche Kinderklinik
Department of Pediatric Diabetology.
Academic Childrens Hospital Nuremberg:

Request more information now.
We will be happy to answer all your questions.
---