Academic Childrens Hospital Nuremberg
Department of Pediatric Oncology and Hematology (

444914

)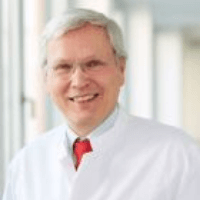 Prof. Dr. med.
Wolfram Scheurlen
Specialized in: pediatric oncology and hematology
About the Department of Pediatric Oncology and Hematology at Academic Childrens Hospital Nuremberg
The Department of Pediatric Oncology and Hematology at the Academic Childrens Hospital Nuremberg offers the full range of services in these medical fields. It provides a comprehensive diagnostics and effective treatment of newborns, infants, children and adolescents of all age groups with oncological diseases and blood diseases. Medical care is provided on both an inpatient and outpatient basis. For the treatment of children, only the most modern, proven types of therapy are used, which allow achieving complete recovery or long-term remission. The Chief Physician of the department is Prof. Dr. med. Wolfram Scheurlen.
Cancer treatment is provided in a special unit called "rainbow", which is fitted out with all necessary medical equipment and decorated in a children's style, so that young patients feel at home. Here, not only oncologists, therapists work with children, but also children's psychiatrists, psychologists, social educators and game therapists, who support children and their parents in every possible way, help them to fight with terrible ailments.
In the field of hematology, there is provided both diagnostics and treatment of all disorders of structure and levels of erythrocytes, leukocytes and thrombocytes in newborns, children of all ages and adolescents.
The diagnostic options of the department include:
Blood test: the number of blood cells and their functional state
Evaluation of indirect signs of blood cell hemolysis
Blood tests to detect infections, viruses and fungi
Imaging examinations (sonography, radiography, magnetic resonance imaging, etc.)
Bone marrow examinations
Genetic diagnostics
Other diagnostic options
The department provides treatment of the following diseases:
Different types of anemia, including due to cancer
Thrombocytopenic purpura
Polycythemia
Hemophilia
Hodgkin's lymphoma (lymphogranulomatosis)
Non-Hodgkin lymphoma
Acute and chronic lymphoblastic leukemia
Acute and chronic myeloblastic leukemia
Myelodysplastic syndrome
Soft tissue sarcomas
Osteosarcomas
Brain tumors
Neuroblastomas
Nephroblastomas
Germ-cell tumors
Other diseases
Hematologists work in close cooperation with oncologists, which provides comprehensive medical care. The main therapeutic possibilities for the treatment of hematological pathologies include blood transfusion, stimulation of blood cell growth by growth factors, suppression of immune defense in autoimmune diseases, etc.
It should be noted that all diagnostic and therapeutic procedures are conducted in accordance with the guidelines of the German Society of Pediatric and Adolescent Medicine, the recommendations of the German Society of Oncology and Hematology, which guarantees a high level of medical care and optimal results.
Photo of the doctor: (c) Klinik Hallerwiese-Cnopfsche Kinderklinik
Department of Pediatric Oncology and Hematology.
Academic Childrens Hospital Nuremberg:

Request more information now.
We will be happy to answer all your questions.
---